Crippling gas crisis hits Chittagong city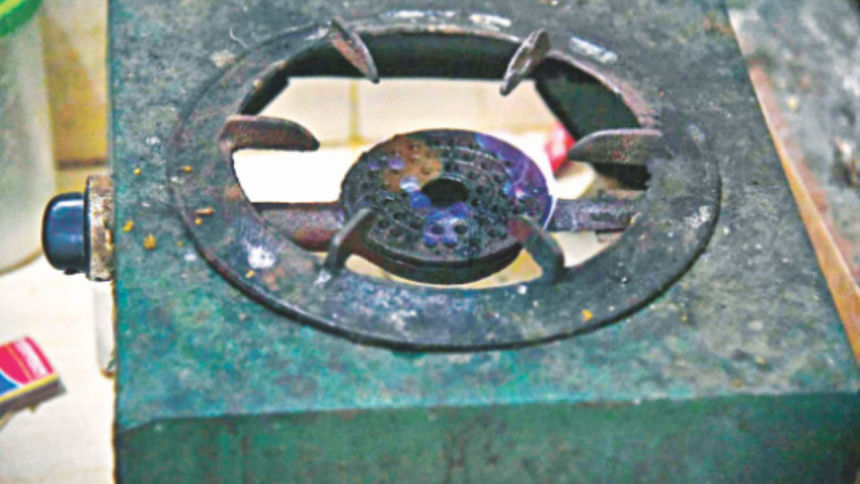 The port city has been experiencing a severe gas crisis for more than a week, leaving its residents to use alternative means to cook or buy prepared food.
The crisis occurred as the Karnaphuli Gas Distribution Company Limited (KGDCL), assigned to supply gas to the Chittagong region, is getting around 40 mmcft gas less from the national grid every day.
To address the crisis in the residential areas, the KGDCL officials have recently stopped supply to two power plants and a fertiliser factory, but the situation has not improved.
Md Raihan, a resident of Lalkhan Bazar area, said he had to buy lunch for three consecutive days as they could not cook food.
"We get gas very early in the morning and after midnight, but the flow is very low. This situation is prevailing for more than a week," he said.
Like many other residents, Raihan is confused whether he should wait for restoration of gas supply or go for alternative means.
Sushanta Chowdhury, a resident of Bakalia area, said his wife has become fed up with the situation. "She has to wait for gas till midnight. Then she cooks food and goes to bed. Again she has to wake up very early to complete her day's cooking by 6:30am as the supply completely stops after that," he said.
"We pay the bill regularly but cannot use gas as per our daily needs," he observed.
The crisis has also left a bad impact on the industrial sector.
Mahbubul Alam, president of Chittagong Chamber of Commerce and Industries, said more than 400 factories in Chittagong have been facing production disruption due to the gas crisis.
"The export sector has been affected very badly as the exporters cannot ship their goods in time due to the production hamper," he said.
"I will write a letter to the Ministry of Power, Gas and Mineral Resources to address the crisis as soon as possible," he added.
Saber Ahmed, a driver, said he has to spend at least one and a half hours to refuel his vehicle because of long queues at CNG station.
Haider Azam Chowdhury, president of Chittagong District and Metropolitan Auto-rickshaw Owner-Driver Unity Committee, said drivers are suffering badly due to the shortage of gas supply.
Against the demand of gas worth Tk 300, a driver hardly gets Tk-150 gas as the pressure is quite low at the refuelling stations.
The drivers have to go to the CNG station in the evening that cuts a peak time from their working hours. Paying the daily deposit to the vehicle owners is becoming very difficult for them, Azam added.
Anupam Dutta, manager (load monitoring) of KGDCL, yesterday told The Daily Star they could not supply gas adequately as they were not getting gas from the national grid as per demand.
"The demand of gas in Chittagong is more than 400 mmcft, but the city gets only 240 mmcft gas on average," he said, adding, "The supply from the national grid has recently been cut by more than 40 mmcft.
"We received just 195 mmcft on Wednesday and 197 mmcft on Thursday," he said.
"We have been forced to stop supply to Shikalbaha Power Plant, Raozan Thermal Power Plant and Chittagong Urea Fertilisers Limited since last week to improve domestic supply," he said.
Asked why the supply from the national grid has decreased, Anupam said, "Actually the overall gas production has decreased.
"The country's total production was 2,750 mmcft, which has been down to 2,670 mmcft for several months," he said.
He, however, expressed the hope of improvement. "A well of Samutang gas field will go into operation next month and that might improve the situation."
In the port city, Chawk Bazar, Bakalia, Jamal Khan, Anderkilla, Dewan Bazar, Chandanpura, Askar Dighir Par, Kapasgola, Badurtala, Bahaddarhat, Katalganj, Shulakbahar, Rahamatganj, Ghatforhadbegh, Pahartali, Boxir Hat, Kala Miah Bazar and Chandgaon are the most affected areas.