Jute mill workers clash; road blocked in Ctg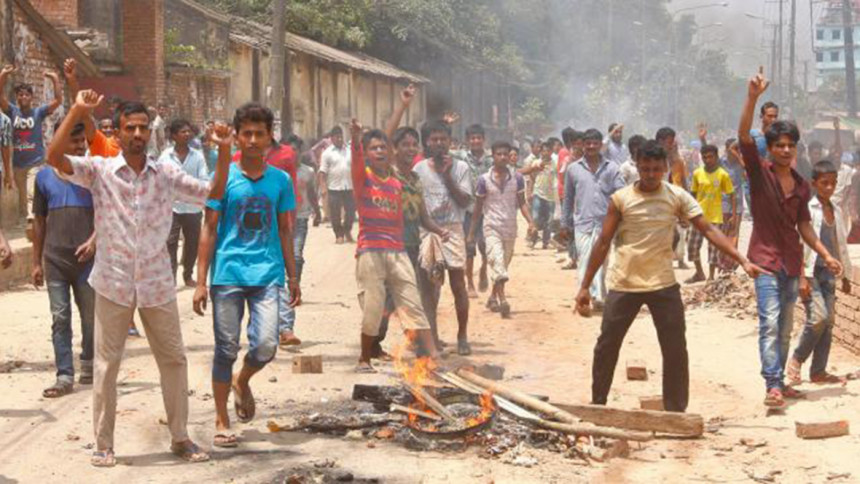 Fifteen people were injured as workers of a jute mill demonstrating for their arrears clashed with police in Aturer Depot area of Chittagong city today.
The workers of Amin Jute Mills also blocked the 'Oxygen-Hathazari'road around 9:00am, reports our Chittagong correspondent quoting Osman Ghani, a sub-inspector of Bayezid Bostami Police Station.
They were due for six months of salary and 20 percent arrear, said Shafiqul Islam, senior employee, line in-charge of the spinning department said.
The workers were promised the salary by this week but when they tried to talk to the general manager of the jute mill in the morning, they were told that they would get only three weeks of salary, he said.
Hearing the authorities' decision, some 400 to 500 workers of the jute mill took to the streets and were resisted by the law enforcers ensuing a clash around 11:00am that left at least 15 people were injured.
Among the injured, two women -- Khadija, 30 and Najma, 35, -- were undergoing treated at Chittagong Medical College Hospital (CMCH), said Assistant Sub-inspector Shilabroto Barua of CMCH police camp.
A tri-party meeting between the workers, jute mill authorities and police personnel was going on in a bid to try and resolve the issue till filing of this report in the afternoon.