City malls abuzz with last-minute shoppers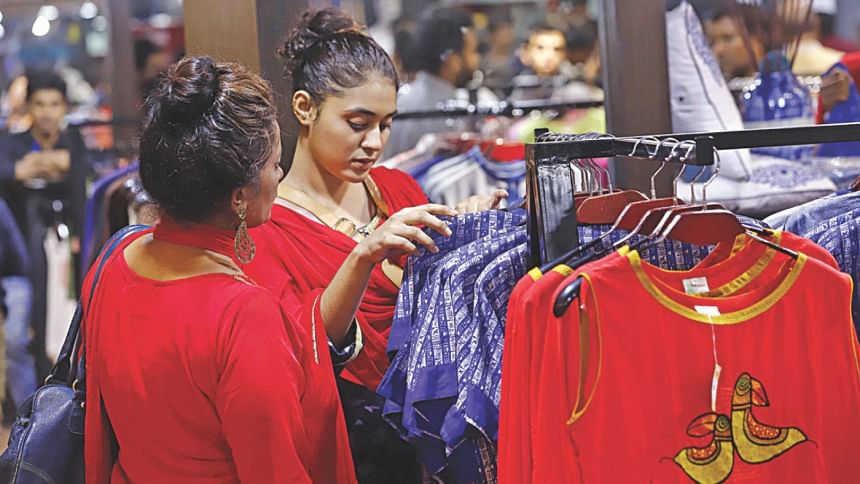 As the month of Ramadan comes to a close and the blessed Eid-ul-Fitr knocks fervently on our doors, shoppers are moving from store to store looking for the final items on their shopping lists.
Every year, city dwellers begin shopping a considerable time before the big day, looking for the best jewelry, cosmetics, and footwear, while many men search for prayer caps and prayer beads for their Eid namaz.
During this time, sales in malls go sky-high.
Azharul Hoque Azad, president of the Fashion Entrepreneurs Association of Bangladesh, said Eid-ul-Fitr's market size is roughly around Tk 4,000 crore across the country, including branded and non-branded fashion items.
Since online shopping appeared, many have chosen it as their means to shop, and since then, the demand for physical outlets have reduced, believes Akhtaruzzaman Manju, former chairman of Bangladesh Shop Owners' Association.
However, the last minute shopping frenzy has reached a point where online stores have stopped taking orders from last Sunday, as delivery channels were overloaded with orders. Thus, shopping malls have now become the ultimate destination for last minute shoppers.
To meet the massive demand, malls are now open till Suhoor time, and will be open the entire night on the last night before Eid (Chaand Raat), and even till early morning on Eid day, Manju said.
With their fasts intact, braving either sun or rain, people from all walks of life are in a hurry to fill up their baskets full of gifts and necessities for one of the biggest Islamic festivals, celebrated by Muslims all around the globe.
With many city dwellers going to their districts to celebrate, the roads and highways in the city are expected to clear up from tomorrow.
But one can rest assured that the malls will be buzzing with life till the very last minute.