Chinese man held with ATM cards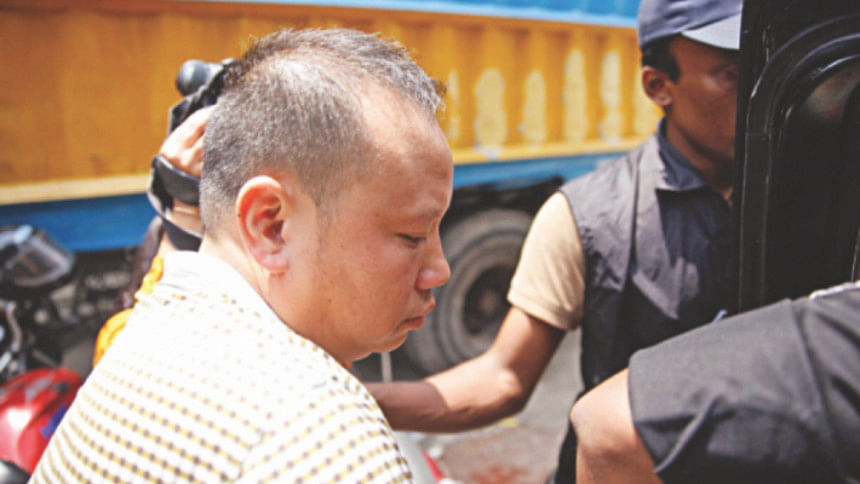 A Chinese national was detained yesterday at an ATM booth in the capital's Kataban on suspicion of his involvement in a card scam.
The Rapid Action Battalion (Rab) officials who detained the Chinese suspected that he was part of an international syndicate of ATM card fraudsters.
The name of the detainee is Zou Jianhui, 38, according to his passport. He was taking out money from an automated teller machine (ATM) of Prime Bank Limited using several cards around 6:30am when the security guard of the booth, Dulal suspected fraudulence and locked the Chinese in, Rab officials said.
Maj Ataur Rahman, a company commander of Rab-2, who detained Jianhui, said the cards used by him had not been issued in his name.
The Rab questioned him through an interpreter, as Jianhui claimed that he did not speak English, he said. The suspect had failed to explain why he possessed the cards issued in other's names and seemed to be trying to hide something.
"He has been giving contradictory statements," Ataur said, adding that the information extracted from him was to be verified.
The security guard suspected him since he was using one card after another and was taking a long time inside the booth, said the bank's Public Relations Director Moniruzzaman. Jianhui took out Tk 66,000 in five transactions against three accounts with foreign banks.
Locked inside, he made gestures trying to offer Dulal the cash he took out from the machine in exchange for letting him go and that confirmed his suspicion. Dulal then informed the bank's authorities, Moniruzzaman said.
The bank's officials rushed to the spot informing the Rab about the matter, he added.