Children used as horse jockeys in southern Bangladesh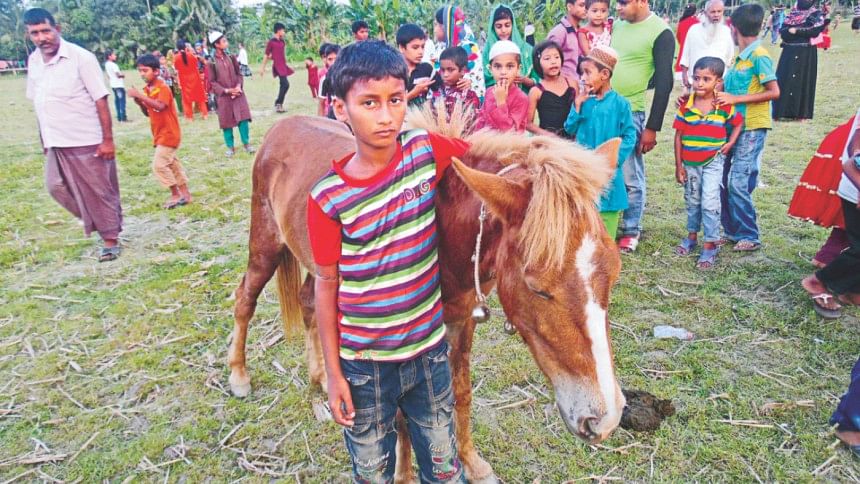 Although the inhuman use of children as camel jockeys is being banned in the Middle East, a similarly cruel practice is going on in Jhalakathi and its neighbouring districts.
Children as minor as six are being used as jockeys in horse races. More dangerously, the organisers do not feel the necessity of using any safety gears for them.
"I fell from the horse several times and got hurt," said eight-year-old Towhid, a horse jockey, who studies in class-IV at Putiakhali Primary School of Putiakhali village in Rajapur upazila.
Towhid said he could not afford treatment every time he fell. "My father is a rickshaw-puller. It is hard to find passengers here," he said.
Poverty forced Towhid to contribute to his father's income by working as a horse jockey. He has been engaged in the dangerous job in May-December, the race season, three to four times a week, for Tk 100 a day.
"When there is a race, I have to take part about four times," he said. Sometimes he has to race six times a day if there is more than one race.
"I know the risks but I do not know any other means of earning money," said Towhid, who wishes he could buy books and a bicycle by his earning.
"Small horses used in the race can easily carry young children because of their low weight," explains Lal Mia, a manager and owner of horses, who hailed from Dogona village in Kathalia upazila.
Children have been used as horse jockeys in the area for around 12 years, he adds.
The children are sometimes so small that adults need to mount them on the horses.
"If we hire an adult, we have to pay him Tk 400 to Tk 500. But a child is available at only Tk 100 a day," says Lal Mia.
He earns Tk 600-1,000 from a horse and a jockey from each single race.
Lal Mia alleges that the main purpose behind the horse race is gambling, as spectators often put bets on horses, making the event an illicit but lucrative one for the organisers.
Three to five horse races are organised in Jhalakathi every week during the season. Horses are also sent to race in other neighbouring districts.
Horse jockey is not included on the list of hazardous jobs published by the Ministry of Labour and Employment.
However, the Children Act, 2013, which defines anyone under 18 as a child, criminalises cruelty inflicted on children in both formal and informal work and engaging them in carrying illegal commodities.
Contacted, MM Mahmud, assistant superintendent of police in Jhalokathi, said they have no knowledge of horse racing in the area.
Mizanul Haque Chowdhury, deputy commissioner of the district, said no one has taken permission from them to organise horse races. He added that he was not aware of children being used as jockeys.
"I will raise the issue in the next law and order meeting," said the DC, who started working in Jhalokathi recently.