Sher-e-Bangla's home lies neglected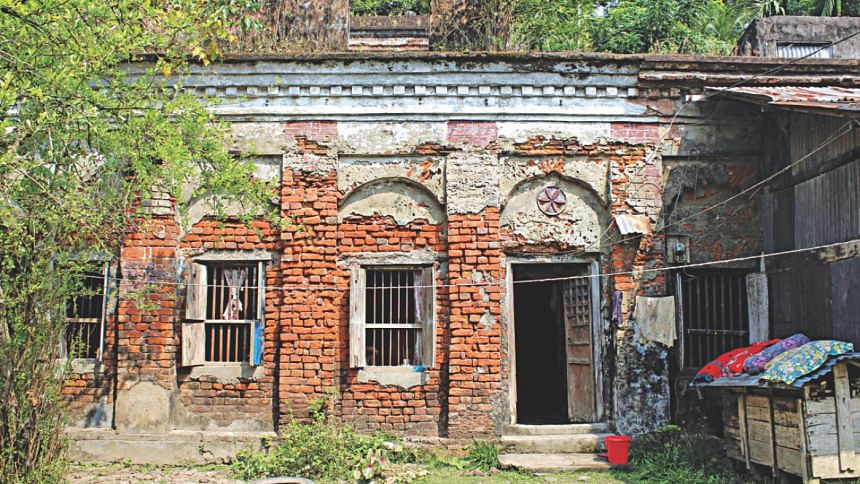 The one-storey dilapidated brick structure surrounded by trees at Saturia village in Rajapur upazila of Jhalokathi is more than just a decade-old edifice.
It is the birthplace of Sher-e-Bangla Abul Kasem Fazlul Haque, the great Bangalee leader who fought for the civil rights of the people of East Bengal during the British and Pakistan era.
April 27 is the death anniversary of the leader and it is observed solemnly in Rajapur, where Sher-e-Bangla was born on October 26, 1873, at his maternal grandparent's house and spent a major part of his childhood.
Although the house was included as a protected site in March 2010, no steps have been taken to repair it and preserve the items used by Sher-e-Bangla .
Except for a wooden chair, all the things that the politician had used at his early age have been damaged over time.
The house belonged to Sher-e-Bangla's grandfather, a landlord in the area during the British colonial regime.
Today the red bricks lay exposed to the elements with plasters coming off .
Thousands of tourists visit the house every year but they express shock and disappointment at the poor condition of the house.
"I thought the house would be very nice and expected to find an institution at the great leader's birthplace. But I am really disappointed by its miserable condition," said Najneen Aktar, who visited the place with her daughter.
"Sher-e-Bangla was the prime minister and a great leader of the country. He contributed a lot for the wellbeing of the people. The new generation must learn about him, and that's why his birthplace should be preserved," said ASM Emanul Hakim, professor of history and the principal of Government BM College in Barisal.
Syed Razzakul Haider Manu, president of a school management committee in the area, said a Tk 1 crore project was taken to renovate and develop the place during the last caretaker government rule. "But the project never saw the light of the day," he said.
"A museum will be built here for keeping the memory of Sher-e-Bangla alive," said ABM Sadikur Rahman, upazila nirbahi officer of Rajapur. He said he had sent all the papers regarding this to the authorities concerned.
"I joined here very recently, but I have been informed that a team from Khulna's archaeological department visited the house for its preservation as a heritage site," said Mizanul Haque Choudhury, the newly appointed deputy commissioner of Jhalakathi.
Since the condition of the house, especially the roof, is very bad, the directorate of archaeology would start repairs before June, a source said.
The house is currently being looked after by Monu Begum, a distant relative of Sher-e-Bangla's grandfather.