Children the planners
Unique approach delivers development in Pirojpur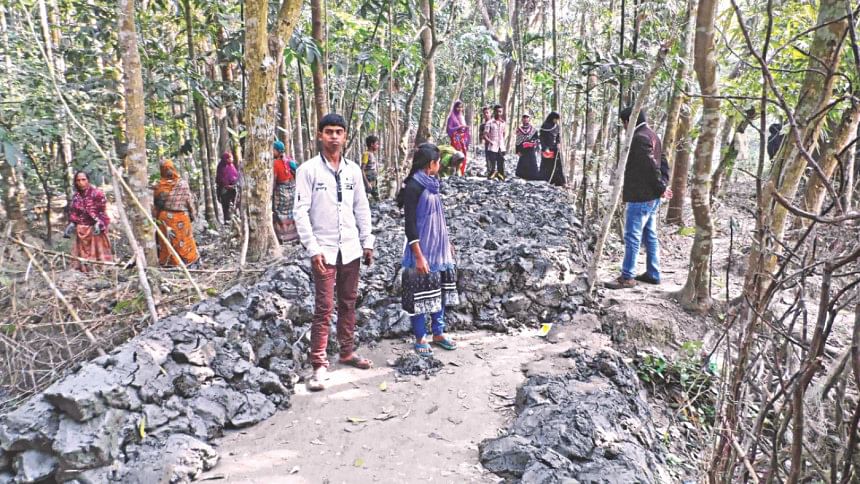 Busy parents know there are times a child's words are barely heard. But they know too, equally well, that a son or a daughter can sometimes utter a sentence of such striking clarity that one wonders if the young age of the speaker really fits.
Parerhat union of Pirojpur's Zianagar upazila has taken a novel approach to local development. Local authorities, the union parishad, have decided to listen to the area's children.
"We have a close connection with the children involved in the Child-Centred Climate Change Adaptation programme run by the NGO, United Development Initiative for Programmed Action," says Shah Alam, union chairman.
Under the Save the Children supported programme, the young participants work on finding solutions to issues as diverse as health, sanitation, agriculture, and education.
"The children proposed a plan for road development," Alam explains, "And we have accepted it."
He says within 40 days the road work suggested in the children's plan will be completed by the union parishad, with 15,000 people in the union set to benefit.
"In the monsoon months, to move along our mud roads is to suffer," says Khadiza Begum, 35, of Umedpur village. "There are several stretches of broken road, and in places it is low and easily flooded."
"Children can hardly reach schools in the rainy season," says Razzak Bepary, another Umedpur villager. "Adults too face troubles moving about when the roads become very muddy, especially where the roads are low."
The children's plan for the union includes raising the height of key road stretches.
Though there are several concrete and brick roads already, many locals have difficulty in reaching these better constructed roads in the first place. They have to negotiate muddy approach roads to get there.
"As children, we imagine first the problems experienced by children," says HSC-level student Nazmul Islam. He is a member of the NGO programme's children's club at Parerhat which formulated the road improvement plan.
"During the monsoon season, many children have difficulty coming to school because of the bad road conditions," he says. "That's why we made some suggestions to the chairman for road construction work."
The union parishad will develop over four kilometres of roadway along five roads in Umedpur, Hoglabuniya, Togra, Nolbuniya, Baroykhali and Uttor Lahuri villages. The roads will be 10 feet wide and be raised by about 3 feet.
To the community's advantage, 207 workers have been made available for the construction under the 40-day Employment Generation Project for the Poorest, with work due to be completed by the end of this month.
When monsoon arrives in 2016, for the first time many of Parerhat's children will have little trouble reaching school. For adults too, the improved roads promise ease of movement. It's a development outcome made possible by a union parishad and chairman willing to listen to the area's youngsters and take action to address their concerns.