Huge haul of liquor in Ctg
Customs seize large consignment brought in from China as capital machinery for power plant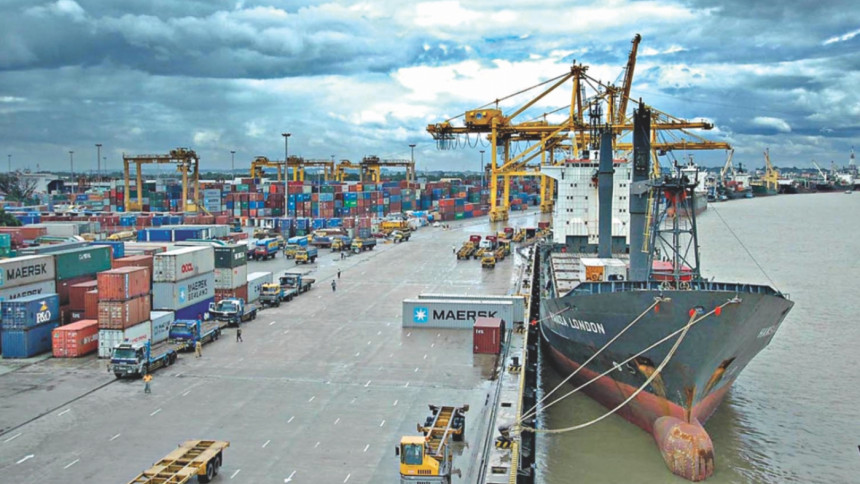 Chattogram Customs House seized a huge consignment of alcohol, imported as capital machinery for a power plant, from three barges in the Karnaphuli river on Tuesday night. The consignment was offloaded on to the barges from a mother vessel from China.
According to import documents, capital machinery weighing 1,407 tonnes was imported by Bangladesh-China Power Company (Pvt) Limited in 669 boxes. After opening some of those, customs officials found liquor and beer of different brands.
The joint venture company is implementing a 1,320 MW power plant project at Payra of Patuakhali.
Officials said this might be the biggest ever seizure of alcohol at Chattogram Port in terms of volume.
C&F agent Bipasha International, which was responsible for unloading the boxes from the mother vessel, MV Qi Xia Shan, on behalf of the joint venture, had declared that the cargo vessel would carry capital machinery for the power plant, Customs House Joint Commissioner Shadhon Kumar Chandra told The Daily Star.
Customs sources said MV Qi Xia Shan reached Chattogram Port from China on July 18. It carried 11,511 tonnes of goods imported by 40 companies and had been offloading the goods since Sunday.
Addressing a press conference at the Customs House yesterday, Cus-toms Commissioner Fakhrul Alam said the C&F agent offloaded around 600 boxes on to MV Sea Sky-5 and MV Sea Enterprise, and brought those to Bangla Bazar Ghat.
On information, customs officials rushed there on Tuesday night and seized the barges with boxes. They also found that some more boxes were being offloaded on to another barge MV DBC Enterprise from the mother vessel anchored at the outer anchorage of the port.
"We randomly checked some of the boxes and found most of them packed with bottles of liquor and beer of different brands," he said.
The Customs House had information that all the remaining boxes contained alcohol and beer, he said. "This might be the biggest ever seizure of a liquor consignment by us so far."
Officials also found some food items, including noodles, mushroom and biscuits, in some of the boxes.
Fakhrul said it would take at least five days for them to prepare an inven-tory of the seized items to ascertain the value and volume of the liquor and beer.
He said they sent a letter to the Chattogram Port Authority yesterday re-questing them to bring all the boxes to the port jetty.
"The owner of the C&F agent, shipping agent, and barges is the same person named Shahidul Alam. We suspect that he is involved in smuggling goods under the guise of working with several power plants of the government."
As per a statutory regulatory order (SRO), goods imported for power plants are duty-free. However, private companies have to pay just 1 to 3 percent import duty on capital machinery.
Importers have to pay a duty of 605.80 percent for liquor and 450.07 percent for beer, said customs officials.
As part of the government's initiative to increase power generation and to encourage investments, customs officials promptly release capital machinery and other goods imported for power projects.
All other imported goods go through inspections at up to 10 stages be-fore their release from ports.
Officials suspect that some C&F agents and importers might be taking an undue advantage of inspections of capital machinery.
Fakhrul said they would carry out an investigation into the previously im-ported consignments of government projects to find out whether there was any anomaly.
Md Nazrul Islam, manager of C&F agent Bipasha International, told The Daily Star that they were not involved in importing the alcohol as they were only responsible for taking delivery of the consignment. "If there is any irregularity, the importer is responsible for it."
Despite repeated attempts, this newspaper could not reach the authorities of the power plant project over phone for comment.
Customs and drug administration officials at Chattogram Port had seized six large shipments of liquors imported under false declarations between 2011 and 2017, customs and court documents show.
The consignments, imported as capital machinery of factories, included around 75,000 litres of whiskey, vodka and beer. Customs officials said the seized volume was only a fraction of the total amount of alcohol smuggled into the country.
Officials yesterday said they would decide on taking legal actions in connection with the latest seizure of alcohol after carrying out an investiga-tion into the incident.