Caught in the web of con artists
Unsuspecting youths pay hefty sums for jobs in Chattogram Customs only to find they've been scammed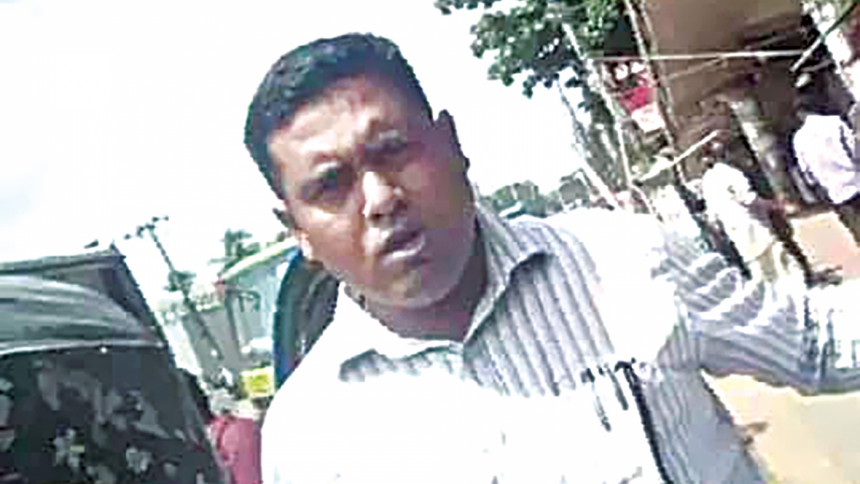 It was a dream come true for Milon Chakraborty, a resident of Lalmonirhat district. For the last one year and a half, he had been pursuing a lifelong dream of having a job at Chattogram Customs.
Appointment letter in hand, the enthusiastic youth made his way to his first day at work on Sunday. But his happiest day soon turned into the stuff of nightmares.
Additional Commissioner of Customs Akbar Hossain told them the documents they produced were all fake. Even his own signature on the appointment letter was forged.
It all began when he met Anwar Hossain through a friend last year, who apparently worked at customs. He handed out a paper cutting of a national daily dated December 21, 2017, which was a recruitment notice for several posts at "his workplace".
"I promptly gave my resume to Anwar to apply for the post of office assistant," said Milon, son of Krishna Chakraborty from the East Bejgram area of Hatibandha Upazila.
He soon received an admit card for a written exam. Diligently following each step, he appeared for the exam and viva, along with 15 or so other aspiring candidates, at Agrabad Colony High School in Chattogram on June 22 last year.
In May, a "sub-inspector" from Lalmonirhat Police Station visited his home for verification; a week later, a health certificate had been issued from the Civil Surgeon's Office in Lalmonirhat through mail.
But it was only after he transferred an amount of Tk 8 lakh to a private bank account as bribe, also recommended by Anwar, that he received an appointment letter by mail for the post of office assistant and computer operator.
Speaking to this correspondent over phone on Monday, he said, "I was unemployed for about five years after passing my degree exams. I was desperate for a job. That is why I sold off my ancestral property and managed the funds."
Milon could not immediately mention the name of the account holder to whom he transferred the money. But he said he has the account name and number at home.
This correspondent collected Anwar's mobile number from Milon and called him. He said he knows Milon, but he did not take any money from him. Another person took the money, he informed The Daily Star, without mentioning the name. "The name will be revealed after investigation."
He also claimed that his name was actually Mofizur Rahman Kamal, and he is an employee at the customs office.
However, Akhter Hossain, a personal assistant to the customs commissioner, told The Daily Star on Monday, that "there was no one in the custom house named Anwar Hossain or Mofizur Rahman Kamal."
"But there have been several such acts of fraud going on for some time. Although we have no official data, between January and March alone, we found that four such persons from Faridpur and Chandpur had been tricked in similar fashion."
According to customs officials, two others also went there on Sunday with appointment letters. They were Saiful Islam, son of Arijul Islam from Boyaliya under the Kalaroa upazila, and Abdul Gafur, son of Akimuddin from Bamonkhali of the same upazila.
The three letters had a document number and a forged signature of the current Customs Commissioner Fakrul Alam. They were all directed to join their posts between September 2 and September 10.
They showed the recruitment notices, admit cards, and appointment letters to the customs authority. The special paper used for government work was used to draw up the documents.
So, it would not have been possible for the job seekers to doubt anything, said officials.
"This kind of fraud would not have been possible if someone from customs was not involved," an official said.  
Akbar Hossain, additional commissioner of customs, said, "All these papers were prepared by forging seals and signatures. We have advised them to file a case with the police."
Jahangir Alam, head teacher of Agrabad Colony High School, told The Daily Star, "I am not aware of any exam that took place on the school premises."
Officials at the customs house could not say for sure if the newspaper ad that was shown to Milon was real or fake as he could not produce the paper cutting.
The Daily Star could not ascertain if the person who performed the "police verification" was a real policeman or an imposter.
The three deceived youths went to Chattogram Bandar Police Station to file a case but the police did not record their case as the station did not have jurisdiction.
Sushanta Bhattacharya, officer-in-charge of the station told The Daily Star, "All of them were cheated in their areas and they sent the bribes through banks and courier service providers in their areas. We suggested that they file cases with their local police stations."
The three youths did not file any case as of Wednesday.
Saifur Rahman told The Daily Star on Wednesday, "We contacted Anwar Hossain and he asked us not to file any case and that we'd get our money back tomorrow [Thursday]."
He said by paying the bribe they committed a crime and filing a case would make things worse and they would not get back their money.
Contacted yesterday evening again, he said they had not received the money.