Relief Distribution for Rohingyas
Chaotic scene in camp areas
Government efforts to bring order to relief distribution in Rohingya camp areas are largely overwhelmed by the huge number of refugees.
In Kutupalong camp area, the district administration has opened a centre beside Cox's Bazar-Teknaf road for individual relief donors to provide their names and the quantity of the goods they want to donate.
The individuals are then asked to go to designated places and distribute the relief.
"We have selected seven relief distribution points in Ukhia and five in Teknaf. We are asking people to distribute certain goods at certain points. But the situation is not in order yet as our manpower is not enough to deal with so many refugees," said Mahidur Rahman, additional deputy commissioner of Cox's Bazar.
The government is distributing relief materials received from India, Indonesia, Iran, Turkey and Morocco. Many NGOs have chipped in as well, he said.
About 1,000 private donors, including different organisations and businesses and religious bodies, have already registered their names with the centre and distributed relief.
Raihanul Islam Mia, Ukhia upazila secondary education officer who was on duty at the relief registration point yesterday, said, "We were supposed to send a government representative with the donors, but we could not do that due to manpower shortage."
As a result, many private donors went to the camps tossing relief materials to the refugees and ending up depriving the elderly and children.
Some people skipped the registration process altogether and distributed cash among the refugees. They sometimes ended up blocking the Cox's Bazar-Teknaf road in the process. The Daily Star correspondents saw four such incidents.
Woman, children and elderly people stood beside roads and rushed towards any vehicle stopping near the shelters.
Rohingyas in makeshift camps away from the main road said they received relief, but it was inadequate.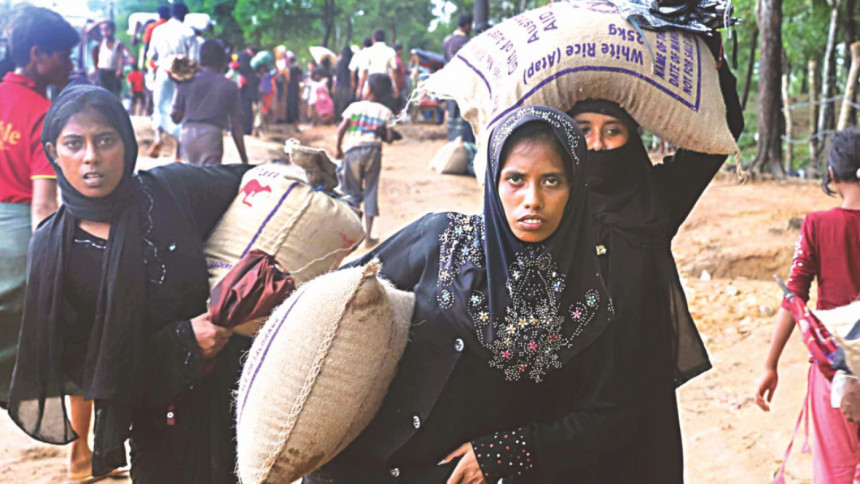 Gura Mia, a Rohingya, said his young daughter died four days after arriving in Bangladesh as he could not find anything to feed her. It happened because no relief was reaching Tajnimaar Khola makeshift camp where he had taken refuge.
Murida Begum from the same camp said she could manage only one kg of rice in three days. It was the only food she had for herself and her four children.
Zaynal Mia, a member of Palong Union Parishad, said over four thousands families had taken shelter at Tajnimaar Khola camp since August 25.
But they were not getting what they need as the relief effort lacked coordination.
Mafiz Ullah, a 30-year-old Rohingya man from Marjalla village in Maungdaw township, said he desperately needed a tent to shelter from the rain.
"I made my tent using polythene sheets. But it was torn and now my family members are in the open. I need a tent more than rice or biscuits," he said yesterday at Ghumdum Rubber plantation in Naikkhyangchhari, Bandarban. 
Rezaul Karim Chowdhury, executive director of Coast Trust, said in some areas people are getting more relief while in others they are not getting what they need.
"There is nobody to assess their needs. So people are not getting what they need. It is essential for the government to understand their needs."
They just don't need rice and biscuits again and again, he added.
An official of Inter Sector Coordination Group, which is coordinating the relief effort of UN organisations, said it would take some more time to bring things in order.
An international aid worker, requesting anonymity, said, "Nobody predicted such a huge number of people within such a short period of time. And people are still coming every day. I think this chaotic situation will prevail for a month."
A total of 4.09 lakh Rohingyas arrived in Bangladesh till yesterday, estimates IOM.
The aid worker said they were negotiating with the government to get a permanent space for refugee camps. They were already constructing makeshift camps stretching from Kutupalong to Balukhali in around 2,000 acres of land.
"Once we construct the permanent camp, relief distribution will be systematic."
A district administration official said they were considering around 2,000 acres of land in Ukhiaghat Mauza for the camp.