Spectre of fresh Rohingya influx looms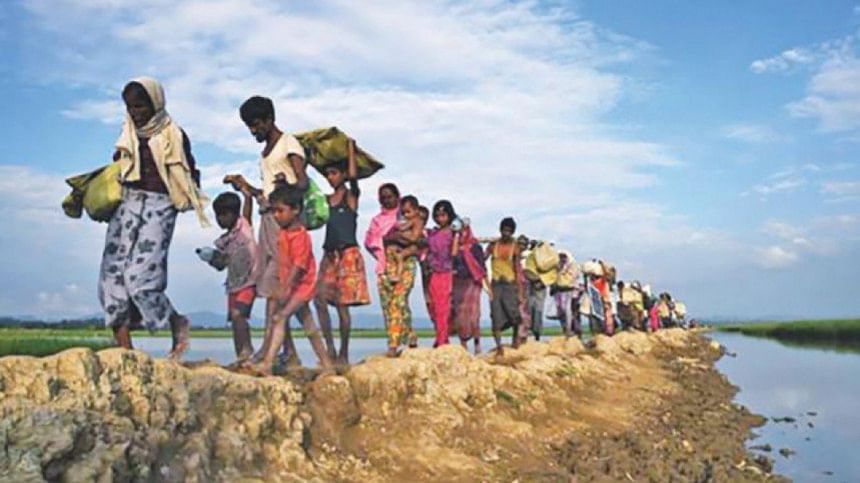 The Myanmar military's continuous air and ground assaults against the Arakan Army (AA) along the Bangladesh-Myanmar border in the past few weeks have triggered fears of fresh entry of Rohingyas into the country.
Since November 2020, there has been a temporary ceasefire between the Myanmar Armed Forces (MAF) and the AA. But in June this year, tensions between the two parties erupted into a violent conflict in Myanmar's in Rakhine and southern Chin.
There have been frequent armed clashes, including the use of heavy weapons and airstrikes, with artillery and mortar shells landing in Bangladeshi territory, sparking diplomatic protests.
This has left the locals in the Maungdaw, Rathedaung, Buthidaung, and Mrauk-U townships in Rakhine and Paletwa in the Chin State of Myanmar fearing for their lives.
Some have landed at the border district of Lawngtlai in India's Mizoram and some have crossed the Naf River and snuck into Bangladesh in recent weeks.
Abu Wada, 40, along with 11 others from Buthidaung took shelter in Madurchora camp-1 in Kutupalong of Cox's Bazar's Ukhia on September 10.
They had been feeling extremely unsafe about the fierce fighting between the Myanmar forces and AA members since August. "We have relatives in Bangladesh. We communicated with them and came to the camp," said Wada.
Three more families have entered Bangladesh in the last few weeks from Buthidaung and have taken shelter in their relative's house in the Rohingya camp in Cox's Bazar.
The correspondent spoke with one of the family members, who spoke on the condition that her name and location are not disclosed.
"The army and local Buddhists attacked us and asked us to leave and move to Maungdaw. We left the place immediately fearing for life," she said.
They first took shelter in Kutupalong camp, but as the law enforcers started looking for them, they moved to another camp. She, however, did not disclose the camp where they are put at.
Mohammad Akter Hossain, in-charge of camp 2E of Kutupalong Registered Camp, declined to make any comment when asked about Rohingyas taking shelter there.
Md Shaed Iqbal, the in-charge of another registered camp in Kutupalong, said they have no information about any new Rohingya shelter. "We have a clear instruction for not allowing any new Rohingya in the camp."
Amir Jafor, commanding officer of the Armed Police Battalion (APBn-8) in Cox's Bazar, said, "We came to know that one family managed to enter inside Bangladesh, but we could not trace the family's actual location yet."
Some Rohingya families have gathered at Rakhine's Sahabbazar area, which is about 30 kilometres from the Bangladesh border, according to M Gafur Uddin Chowdhury, chairman of Palongkhali union of Ukhiya.
"They are waiting for the right time to enter Bangladesh. But we are not sure whether they have crossed the border yet," he told The Daily Star on Tuesday.
Rohingya camp sources echoed the same: many families are waiting along the border area opposite Shah Porir Dweep at Teknaf to cross into Bangladesh.
Besides, they could use the common route, mainly through Chowdhury Para, Leda Bazar, Lombabil, Jadimura and Borotoli points, to enter the country as the width of the Naf River is comparatively less at these points, they said.
There are some brokers on either side of the border who help the Rohingya families cross the river, they added.
[Our Cox Bazar correspondent Mohammad Ali Jinnat contributed to the report]