Could ARSA be behind the recent violence in Rohingya camps?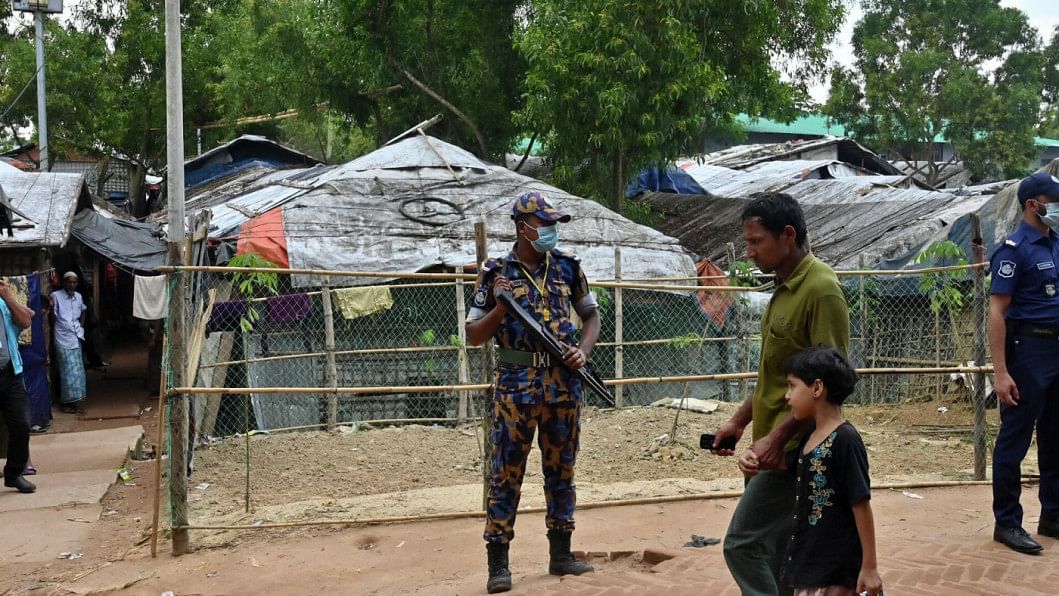 Forty-year-old Ayatullah and 30-year-old Yasin had been asleep when, in the wee hours of October 27, 2022, they were dragged out of their shelter in Block C of Camp 17 by more than a dozen criminals and were fatally shot. According to the victims' families, both were vocal against criminal activities in the Rohingya refugee camps and had often cooperated with law enforcement agencies. 
Earlier, on October 15, miscreants shot dead two community leaders – also known as majhi – Mohammad Anwar and Mohammad Yunus of Camp 13. On October 12, Camp 9's sub-majhi Mohammad Hossain was killed. In the last month alone, at least nine Rohingya refugees have been killed – including an 11-year-old child who was a collateral damage in a shootout between criminals and the Armed Police Battalion (APBn) – while more than 25 Rohingyas have been killed between June and October this year.
Fresh tensions have been brewing in the Rohingya refugee camps of Bangladesh over the last couple of years. This resulted in the brutal murder of Rohingya leader and activist Mohib Ullah, at the Kutupalong camp in the district's Ukhiya upazila, on September 29, 2021, followed by the bloodbath unleashed by criminals upon Darul Ulum Nadwatul Ulama Al-Islamia Madrasa in Camp 18, killing six Rohingyas, including madrasa leader Maulana Akiz. 
It is common knowledge that, over the years, vested quarters beyond our borders have been vying to assert their control over these refugee camps in Cox's Bazar, resulting in unrest and bloodshed. According to a report by Prothom Alo, at least 14 armed gangs are operating in 34 camps in Ukhiya and Teknaf. 
And the Arakan Rohingya Salvation Army (ARSA) is increasingly being alleged by refugees to be behind many of the recent attacks.
The police charge sheet for Mohib Ullah's murder includes 29 Rohingyas, many of whom are suspected to be ARSA members. ARSA has also been accused of being behind the attack on the madrasa, as the madrasa chief Maulana Akiz had, on previous occasions, resisted ARSA's overtures to use it as their basecamp, according to media reports. In fact, it has been suggested in media reports, citing local law enforcement officials, that both ARSA and a Rohingya organisation named Islami Mahas have been in a tussle over dominance and control of about 300 madrasas in the Rohingya camps. 
Although Bangladesh officially rules out the possibility of ARSA operating inside the country, in view of the recent developments and testimonials from refugees themselves, which suggest that ARSA operatives are active inside the Rohingya camps, we must look into the factors behind their increasing interest in the country.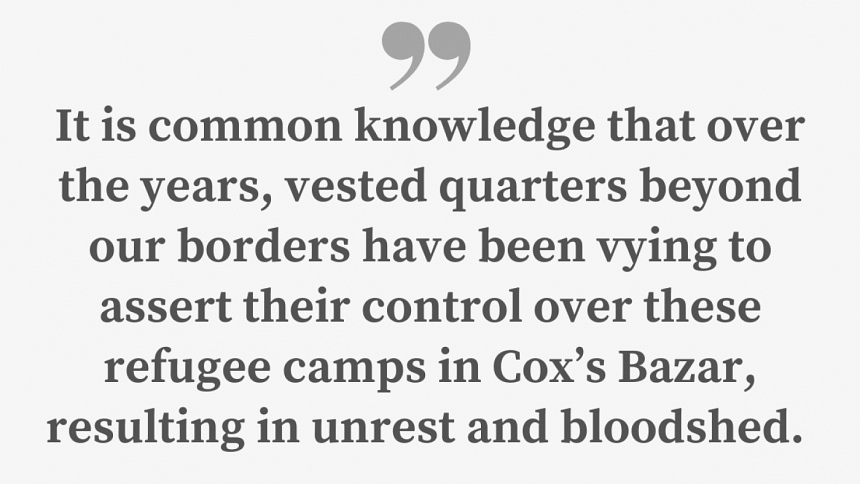 For one, in the wake of the Myanmar military junta's decision to give away Rohingya lands and properties to the military-controlled Border Guard Police Division Office, ARSA is increasingly losing their foothold in the Rakhine state. The vulnerable, volatile Rohingya camps may look like the perfect setting for such a relocation. A January 2022 article published by The Diplomat, titled "ARSA After the Myanmar Coup: Between a Rock and a Hard Place," suggests that "ARSA has lost access to the disenfranchised population base from which it drew its strength. It is for this reason that ARSA has shifted much of its recruitment and sustainment activity from northern Rakhine state to refugee camps in neighbouring Bangladesh."
Also, yaba trade through Bangladesh is profitable. The country, sitting at the centre of three major drug trafficking routes of the continent – the Golden Triangle, the Golden Crescent and the Golden Wedge – finds itself in a tough spot as a convenient trafficking transit. 
While the country is not a producer of drugs, it has become a growing consumer market, especially of yaba. Myanmar, being one of the key producers of yaba in the region, finds Bangladesh a lucrative market – not just for transit, but also for direct sales. Although the Teknaf border was previously a convenient smuggling route, after law enforcement crackdown, an alternative route has been found through Naikhyangchhari, which facilitates the smuggling of 80 percent of the total yaba supply to the country, of which around 70 percent is sold in the camps and the rest across the country. A complete dominance of this market would be highly lucrative for any group, and ARSA also has an eye out for this.
In the midst of the ever-shifting geopolitical landscape of the region, one cannot rule out the possibility of the Myanmar junta using ARSA and other gangs inside the Rohingya camps to keep tensions high there and eliminate the pro-repatriation elements to completely annihilate the possibility of the repatriation of Rohingyas to their homeland. 
In view of these scenarios, it is high time Bangladesh reviewed the situation in Rohingya camps, including the extent and intensity of ARSA's activities and their potential operability, and also assessed the drivers behind the recent rise in violence in the camps, leaving no possibility unexplored. 
We cannot just allow criminal elements to violate our territorial integrity and flout our law and order system. We must assess and eliminate all possible risks before the situation spirals out of control.
However, in doing so, we must keep in mind that it is only a minority of Rohingya refugees who get involved in these activities, and they should not be subjected to collective punishment or mass demonisation, simply because we are their host. This is a delicate situation and should be handled by authorities and the people with the empathy it demands. 
Tasneem Tayeb is a columnist for The Daily Star. Her Twitter handle is @tasneem_tayeb