Do more to de-escalate unrest in Rohingya camps
Authorities must step in to investigate and resolve internal conflicts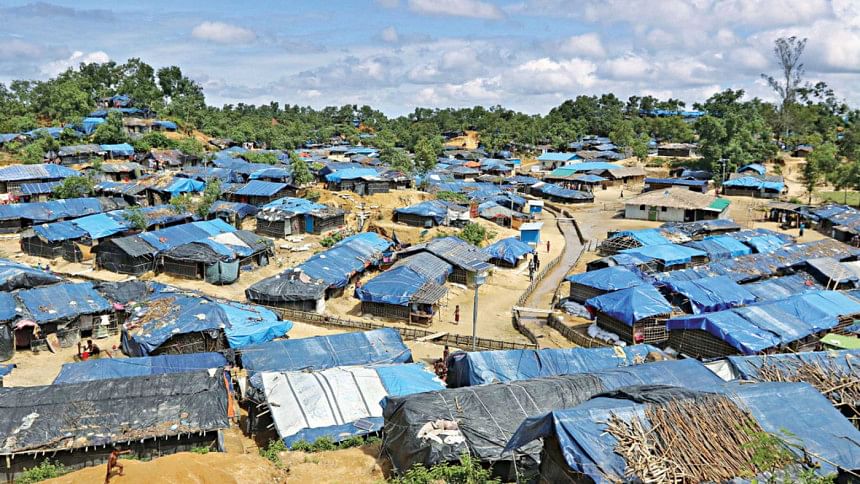 It seems that tensions in Rohingya refugee camps are only increasing as this daily recently reported the death of an alleged Arakan Rohingya Salvation Army (ARSA) leader in Whykong camp in Cox's Bazar's Teknaf upazila. Though it is unclear as to what really transpired, police suspect that Mohammad Hashim, a refugee himself, may have been the victim of a mob beating. It has also been alleged that the self-proclaimed ARSA leader was one of the masterminds in the assassination of Rohingya leader Mohib Ullah in September, and may also have been involved in the October 22 killings of six people in a camp madrasa.
One thing that Hashim's alleged murder makes clear is that it is high time for the government to step in and put a stop to such violence and unrest in the refugee camps. The unopposed expansion of an insurgent group such as ARSA is certainly a concern for our national security, as they are often involved in criminal activities such as drug peddling and weapons trafficking along our borders, besides also causing mayhem in the lives of Rohingya refugees through attacks, human trafficking, and even murder. Earlier reports by this daily have stated how refugees spend their nights fearing criminal attacks in the overcrowded camps.
We reiterate our concern, from our earlier columns, about whether only three battalions of the Armed Police Battalion (APBn) are enough to effectively maintain law and order in the camps that are housing over a million refugees. Though patrolling by security forces increased after the killing of Mohib Ullah, it is clearly not enough to make the camps safe for their inhabitants.
We also urge the government to be proactive in de-escalating the tensions in Rohingya refugee camps, instead of reacting to gruesome incidents after they occur. If such incidents are allowed to continue without thorough investigation and strict resistance from authorities, the conflicts between groups within the camps will only increase and may even reach a tipping point that will be difficult to turn back from. Security in the camps must be consolidated significantly if we are to avoid more violence and loss of lives. Authorities must prioritise the safety of the Rohingyas seeking refuge in the camps, until their peaceful and dignified repatriation is achieved.