Boutiques buzzing before Eid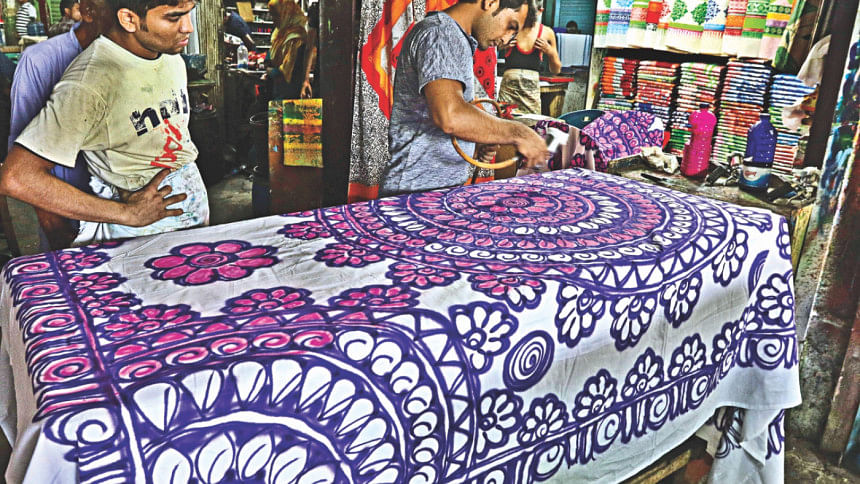 Sounds of stamping, rubbing and sewing machines are getting louder every day since the beginning of Ramadan as workers are spending the busiest time of the year in doing embroidery, blocks and batik prints.
This is the ongoing scenario at Banalata Super Market, popularly known as the boutique market, housed on the third floor of the Government New Market.
Preparation for block prints, hand paints and embroidery on the dresses got the momentum at this market since the Ramadan started on June 7.
Every day the shop owners are getting more orders, especially from the wholesalers and online vendors of boutique dresses, centring the Eid-ul-Fitr, the largest festival of the Muslims, to be celebrated early next month.
Orders for boutique and block prints have already doubled compared to those in the previous months. The shop owners believe more orders will come when the Eid is nearer. But all the workers and the owners have already been tremendously busy at work.
Sales at the shopping centres and boutique houses in the city normally get the momentum when fashion lovers prepare to celebrate eid in a festive mood.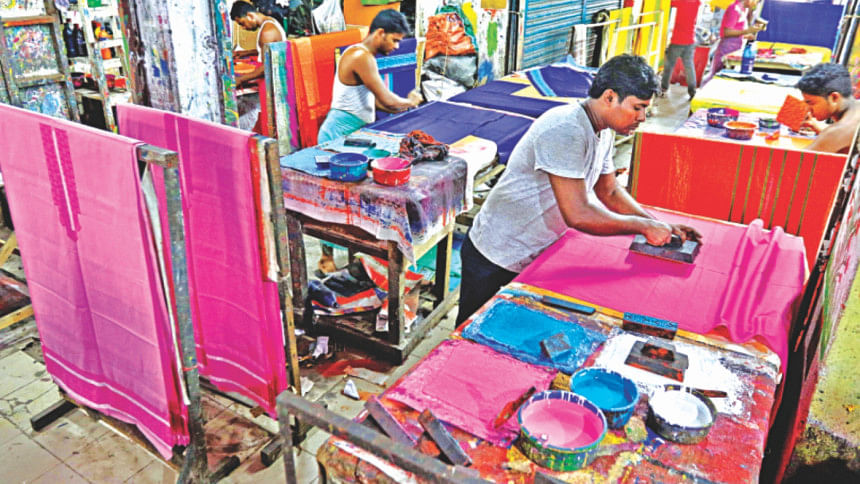 Apart from wholesalers, women and dress designers, many of whom do online business in boutique dresses, place orders for their own choice of embroidery, block and batik prints for salwar-kamiz, sarees, panjabis and bedroom stuffs such as bedcovers, pillow covers and curtains.
There are more than 60 shops at the market that do business in batik/tie-dye, block print, machine embroidery, hand paint, brush paint and sequins and beads.
Block prints on a saree usually cost Tk 150 to Tk 200, whereas on salwar-kamiz it costs Tk 120 to Tk 180. It will cost up to Tk 400 to hand-paint a saree and Tk 250 for salwar-kamiz, while spray paint will cost similarly, according to the owners and workers of the market.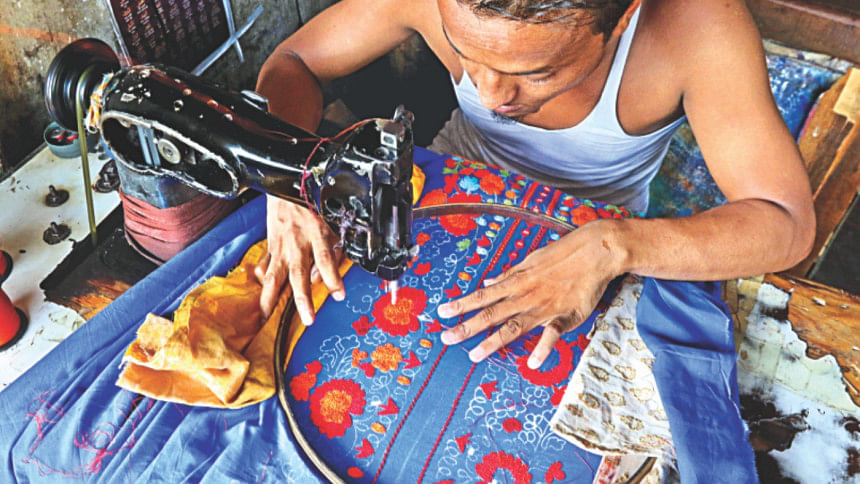 However, doing embroidery on the dresses is comparatively costlier. It costs Tk 500 to Tk 3,000 to do embroidery on a saree depending on the designs and threads to be used.
Several hundred workers are engaged in a hard labour to do these jobs. In normal times, the workers have their shift stretching from 10:00am to 8:00pm. But they now work until 3:00am in the early hours hoping to earn some extra money for their families.
"I have to work until sehri time to get my work done due to additional orders from the buyers. This situation will continue until a day before eid," said Mohammad Idris, who was seen busy with doing block prints at a shop.
Like Idris, most of the workers work until late at night due to pressure of huge orders and also to earn some extra money ahead of eid.
"I normally earn Tk 10,000 a month. Now I hope to earn up to Tk 16,000 during Ramadan," Mohammad Milon, who does embroidery sewing at another shop, told The Daily Star on Wednesday.
"If I can earn this extra sum, my family will be able to celebrate eid in a better way," he said, adding that they get Tk 30 for doing every piece of salwar-kamiz.
Milon can complete the work on around 22 pieces of salwar-kamiz every day.
Mosharraf Hossain, owner of a block print shop, said though boutique dress business got the momentum in the city in recent years, their income has rather decreased.
He said prices of chemicals, rent of shops and salaries of staff have gone high in recent years, but the prices of boutique and block prints did not increase that much.
Many of his fellows have quit this business in the last several years for this reason, he added.