Bogra's Jewellery Village: Sparkling with self-reliance
Five kilometres from Bogra town is a village that gleams with copper and brass. The displays of handcrafted jewellery in Baropur Dakkhinpara are bound to catch one's eye. But it's more than just the jewellery that shines. Across the community, independent lives are being forged by skilled artisans, most of whom are women.
"It's too difficult to support our four-member family on the income of my husband, who works as a carpenter," says Parveen, who has been working with local outfit Shakil Gold Antique Jewellery since 2017. "I'm really grateful that one of my neighbours taught me how to make necklaces, bangles, earrings and nose-rings."
As an artisan, she works nine-to-five for a base income of Tk 700 per week, which brings in around Tk 4,000 each month with overtime included. "It helps my husband to run the family," says Parveen. "My income ensures we can afford schooling for our children."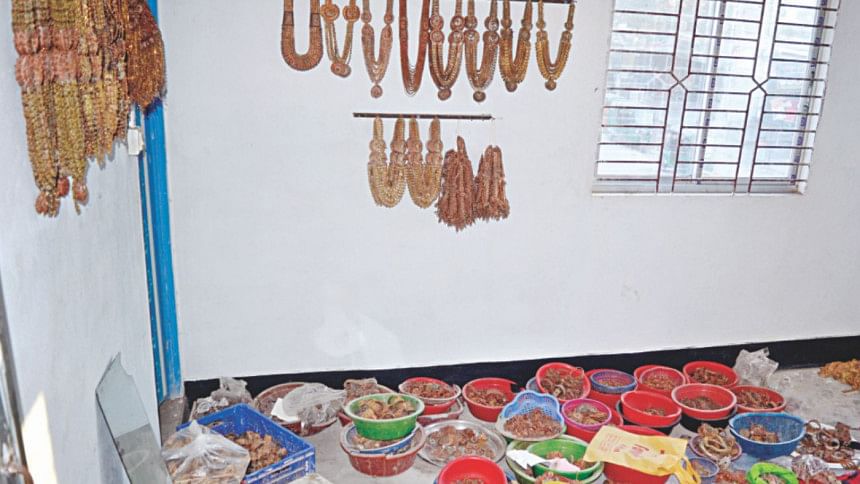 "This locality has become renowned for jewellery," says Shakil Gold's owner, Md Shafiqul Islam Shakil. "Jewellery-making has transformed the lives of many village women." It's a transformation Shakil supports. He hires women as a matter of priority. "I want to see them achieve self-reliance," he says.
Shakil currently has two factories employing over 35 artisans, with 70 percent of them being women. But when he started the business in 2012 he employed around 100 people. "Many of the artisans went on to start their own home-based businesses after learning the jewellery-making trade," he explains.
Across the village there are over 100 jewellery workshops and around 80 showrooms. Still other villagers trade in the required raw materials. The finished ornaments are sold nationwide, including in Dhaka's mega-malls, sometimes with colours and other finishing touches added.
According to Shakil, the jewellery industry was first established in Baropur Dakkhinpara in 2008, when a few Dhaka-based artisans returned to their home village with the idea of making jewellery there. The price of gold at the time was increasing, which meant added demand for handcrafted pieces in other metals.
"Since then," says Shakil, "the jewellery industry in our village has never looked back."