Breaking the convention
Bogra gets its first woman professional auto-rickshaw driver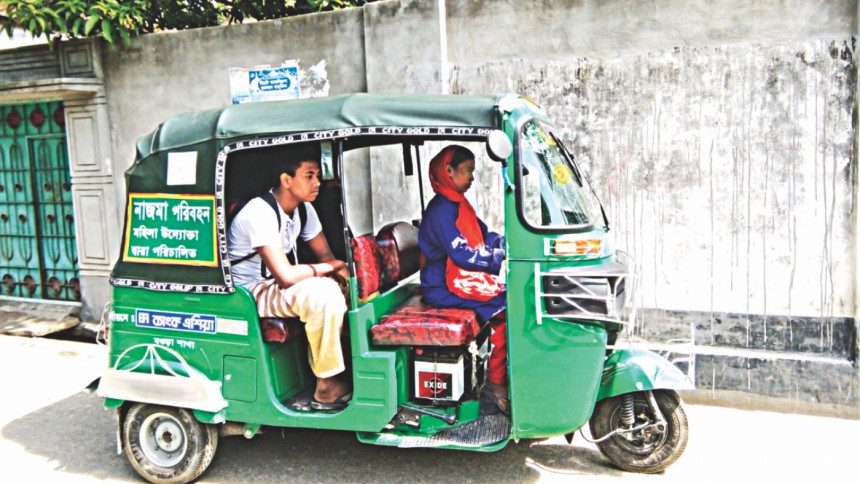 Travelling across the country, one would find different modes of vehicles driven by men of varying ages, but Bogra-Shariakandi Road offers a different picture -- a woman ferrying passengers on her CNG-run auto-rickshaw.
Thirty-two-year-old Nazma Khatun is the first female auto-rickshaw driver in the district. She entered into this entirely male-dominated profession on May 17 after having her own vehicle through bank loan and self-financing.
She had earlier irregularly operated rented auto-rickshaws on the same road for about five months. But now she proclaims herself as a proud owner of a vehicle and a fully-fledged transport worker.
"I used to work in a boutique shop before. I also worked for an NGO, which required bicycle rides to villages. The latter was tiring and both jobs lacked freedom," said the strong-willed woman.
"I wanted to work independently, that is, to be my own boss," she said, adding that she took driving training at Ma Fatema Training and Development Complex in Shariakandi.
She initially faced difficulties obtaining bank loan for purchasing the three-wheeler.
Finally, with the help of District Women Affairs Officer Shahidul Islam, she got Tk 3.28 lakh from Bank Asia's Bogra branch. Adding to that her own fund of Tk 95,000, she finally became the first female owner cum driver of an auto-rickshaw in the district.
Nazma, who lives with her husband, two sons and mother in a tin-roofed house at Madhya Malgram in the town, dreams that one of her sons will become a doctor and the other a technician.
Her elder son Jannatun Nayeem, 16, is a student of class IX at RSF Model School and College in Shajahanpur upazila. He has obtained full-free scholarship because of excellent results. Her younger son Jahid Alam, 14, is also a student of class IX at Baghopara Technical Training College under Sadar upazila.
"I hope my new profession will contribute to the family income so that my sons can make my dreams come true," she said.
Initially, choosing such a profession, which anyone would deem highly unusual for women in Bangladesh, was not so easy. She had to bear insults from her brother-in-law Shahjalal, who said male passengers would stalk her.
Her nephew Mamun threatened to cut off all family ties with her.
But she is hopeful her relatives will soon overcome the misunderstanding and welcome her new profession.
Her husband Jahangir Alam, 36, however, extends all-out support for Nazma.
"First I was discouraged by locals and relatives, but then I felt that woman should stand up on their own feet and encouraged her to take up the profession," said Alam, who works at an iron-made product factory.
Nazma wakes up early in the morning, prepares food for the family and leaves for the 20-km Bogra-Shariakandi Road to transport passengers.
She hopes to earn on average Tk 1,000 per day after spending Tk 250 for gas and other miscellaneous costs.
With that income, she plans to pay off her loan in 33 months at Tk 11,600 monthly instalments. She however has a three-month loan moratorium period, during which she does not have to pay the instalments.
On the road, Nazma primarily faced harassment from fellow workers and chain masters, who decide and control the routes and often charge drivers for parking at the auto-rickshaw stands.
"They raised questions about my work and often behaved adversely. But leaders of local motor owners and workers association intervened and urged them to treat me as a fellow worker and a sister," she said.
Sangram Singha, president of Chelopara CNG-auto-rickshaw owners' association, said they would provide all-out support to female drivers if more women join the profession.
Even Deputy Commissioner (DC) of Bogra Md Ashraf Uddin, who was present at the bank-financed auto-rickshaw handover ceremony, hailed her unprecedented career.
He said the district administration and police would provide full support to every female driver.
Nazma's endeavour has already encouraged other women to venture into the driving profession.
Golzar Hossain of the locality said his wife Shefali Begum, 22, is considering taking loan to buy an auto-rickshaw.
The bank would work to empower women and ensure their economical solvency, said Mozaffar Hossain, executive vice-president and manager of Bank Asia, Bogra branch.