BNP leader killed in Kushtia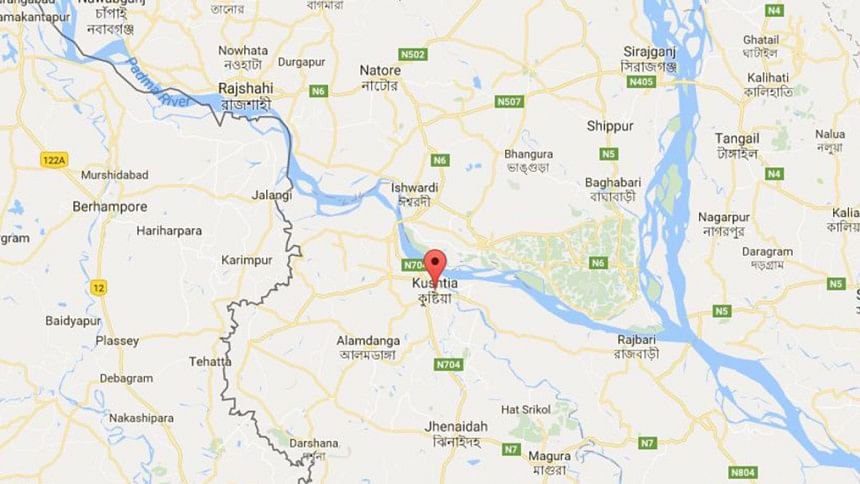 A BNP leader was killed allegedly over land dispute with relatives at Khadimpur village in Chuadanga sadar upazila yesterday.
The dead, Helal Ul Islam, 55, was the vice president of Khadimpur union unit of BNP.
Additional Superintendent of Police (ASP) in Chuadanga, Md Kalimullah said that a group of criminals, led by one Manik Hossain, attacked Helal with various lethal weapons when he was on his way to Khadimpur field for some work.
Razia Khatun, Helal's wife, said the field he was going to was merely half a kilometre from their house. After the attack, she ran to the spot to see her husband. "Before he died, he mentioned that Manik was behind the attack," she said.
After criminals hacked Helal with weapons and left him critically injured, he was taken to Chuadanga Sadar Hospital by locals. He died on the way.
Manik's father, Hasibul Hossain, and Helal were cousins. Recently, Helal and Manik engaged in dispute over family property, ASP Kalimullah said.
Helal's nephew, Habib Ul Islam said Manik was arrested earlier on February after police recovered drugs from his house. He was sent to jail and was given bail on March 2.
"After he came out of jail, Manik threatened to kill Helal in broad daylight," said Habib, adding that "Manik thought Helal planted the drugs in his house and informed the police to arrest him."
"We have evidence that Manik and his father, Hasibul, are directly involved in the killing," ASP Kalimullah said.
Police are trying to arrest the killers, he added.
Waheduzzaman Bula, joint convener of Chuadanga district unit BNP, demanded immediate arrest of the killers.