Beef too costly in Bangladesh
Prices 32pc higher than global average, according to World Bank data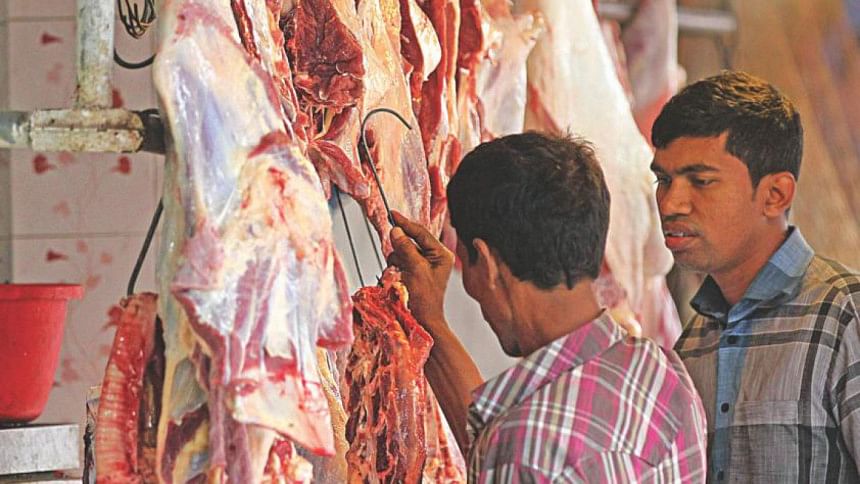 Beef is 32 percent costlier in the country than the global average, largely due to inadequate domestic production, drop in the flow of cattle smuggled in from India and extortion from traders.
Consumers paid Tk 480-510 or about $6 for each kg of beef in Dhaka last month when the global average price was $ 4.54 (about Tk 366) per kg, according to the World Bank (WB) Commodities Price Data released every month.
Beef is, however, not the priciest in Bangladesh. The red meat is pricier in the UK but cheaper in Pakistan, according to Numbeo, the internet database of the cost of living.
Mohammad Shah Emran, general secretary of Bangladesh Dairy Farmers' Association (BDFA) linked the high prices to declining flow of cows from India.
"We are yet to become self sufficient in producing beef," he said, adding that the sector has not grown enough to meet domestic demands, mainly because of the farmers' fear of an influx of cattle from the neighbouring country causing the prices to plummet.
Market data shows that the prices began to rise after cattle flow from India, in early 2015, started declining in the wake of Indian authorities' strong vigilance.
Prior to the crackdown, over 20 lakh cows were smuggled into Bangladesh every year, according to National Board of Revenue. The meat prices were less than Tk 300 per kg in Dhaka at the time, according to market data gathered and compiled by The Daily Star. 
Consumers could buy one kg of the red meat for Tk 280-300 in February 2015, when the global average prices of beef was $4.63 or Tk 360, based on Bangladesh Bank's exchange rate at the time. It shows that beef prices in the country were 24 percent lower than the global average.
As the inflow slumped in mid 2015, beef prices shot up. In August, 2015, retail prices in Dhaka were about Tk 400 per kg or $5.14, which was 10 percent higher than then global average of $4.68, according to the World Bank and local market data.
The gap between domestic and global average prices widened even more early this year when meat packers cited higher purchase prices and alleged extortions and hiked red meat prices.
"It begins from the borders," said Robiul Alam, secretary general Bangladesh Meat Merchant Association.
Traders have to pay extortionists between Tk 10,000 and 12,000 just to bring a cow to the Gabtoli cattle market from the border. Earlier, the illegal toll was much lower, he added.
AFM Asif, chief executive officer of Bengal Meat, said the demand for meat was rising in line with the growth of economy. "But supply is not increasing keeping pace with demand," he said
Bangladesh annually requires 70.52 lakh tonnes of meat but it could only produce 61.52 lakh tonnes, according to data from Department of Livestock Services (DLS).
Bulk of the domestic requirement for meat is met by poultry, according to industry insiders.
Asif said cattle rearing was on the rise but it was not adequate to influence the prices yet. Development of breeds to improve per cow meat production was needed, he said.
The DLS data show that Bangladesh had 2.37 crore cattle in the fiscal year 2015-16. However, milk and beef yield per cow was low, said stakeholders.      
DLS Director General Md Ainul Haque said more than 5 lakh farmers rear cattle for meat. The DLS brought semen of Brahman breed of cows under a project to develop breeds for beef production. The semen was experimentally given to contract farmers in 80 upazila.
"We see good results," he said, citing live weight of a bull becomes 600kg in two years whereas live weight of local breed becomes about 200kg at the same age.
He said DLS plans to disseminate the breed in two-three years among mass farmers through artificial insemination.