Battered, bruised
Thoroughfares in Ctg in a sorry state for almost a year; officials say work to be done by next year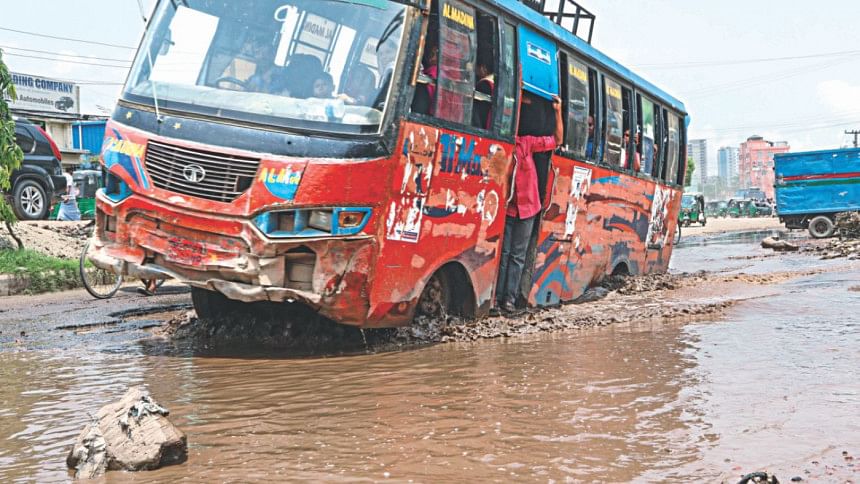 On the night of August 13 last year, a driver of a container trailer lost control of his vehicle in Port Access Road in Chittagong and it tipped over and fell on a cng-run three-wheeler.
Eye witnesses at the time said the trailer turned over after its left wheel fell on a large pothole.
The overturned vehicle crushed three people on the three-wheeler to death while two others were injured.
Ten months later, the condition of Port Access Road, one of the most vital roads which connect the port to the rest of the city, remains the same.
The two kilometres road, plied by over hundreds of vehicles going to and from Chittagong Port around the clock, remains full of potholes.
Locals allege that hardly any progress has been made on the development work of Port Connecting Road and its adjoining Agrabad Access Road which began in November 20 of last year.
The Agrabad Access Road-- used by commuters from Bepari Para, Choto Pool, Shanti Bagh and Bara Pool areas-- is another example of how bad the situation is.
Commuters taking the road expect a bumpy journey while the condition of the road means that cng-run auto-rickshaws and pulled rickshaws both charge higher fares to traverse the road.
Tripti Barua, a resident of Shantibagh area and a student of Government Commerce College, Chittagong, said she had to endure the uncomfortable journey every day to and from college.
"If a rickshaw or auto-rickshaw driver agrees to use the road, they demand double or triple the fare."
Vehicles also get stuck in the 2.38 kms potholed road. Many vehicles also break down because of them.
However, officials of Chittagong City Corporation (CCC) expect the Tk 158.47 crore Japan International Cooperation Agency (JICA) funded project to be completed by January next year.
Contacted, Lt Col Mohiuddin Ahmed, chief engineer of CCC, said the elevation work of Port Connecting Road would be made which would need more time.
He said the Agrabad Access Road would also be elevated by three feet. "We have already completed work on all the side drains and expect to complete the entire work by January next year," he said.
Regarding the allegation of a slow pace of the work, Mohiuddin said most time was needed to do the basic work.
"We had to carry out eviction to enlarge and build the drains," he said, adding, "Once the preliminary work is done, the rest would be completed rapidly."
During a recent visit, this correspondent found three other thoroughfares-- Muradpur to Oxygen Road, Bahaddarhat to Karnaphuli Shah Amanat Bridge Link Road and Bahaddarhat to Kaptai Rastar Matha of Arakan Road--to be in disrepair.
The tattered stretch of Bahaddarhat to Karnaphuli Shah Amanat Bridge Link Road was due to the ongoing construction of a flyover.
Elsewhere, the Muradpur-Oxygen Road and Bahaddarhat to Kaptai Rastar Matha has been in disrepair also for around a year.
Potholes were frequently seen in Muradpur, Bibirhat, Hamzarbagh and Aturar Depot areas in Muradpur-Oxygen Road.
CCC officials said the repair works in these two roads were delayed as the Chittagong Water Supply and Sewerage Authority (CWASA) had not yet completed their Chittagong Water Supply Improvement and Sanitation project.
Contacted, Sudip Basak, executive engineer of CCC, said CWASA was yet to complete their work but they were supposed to do so in March.
He said repair could not be done while the CWASA project was underway.
"But our work in these [two] roads is almost 80% completed."
CWASA managing director AKM Fazlullah said the construction work in Bahaddarhat to Kaptai Rastar Matha would be completed within 31st May while it would take some more time for the Muradpur-Oxygen Road.