Artist Mithu dies as tree falls on his rickshaw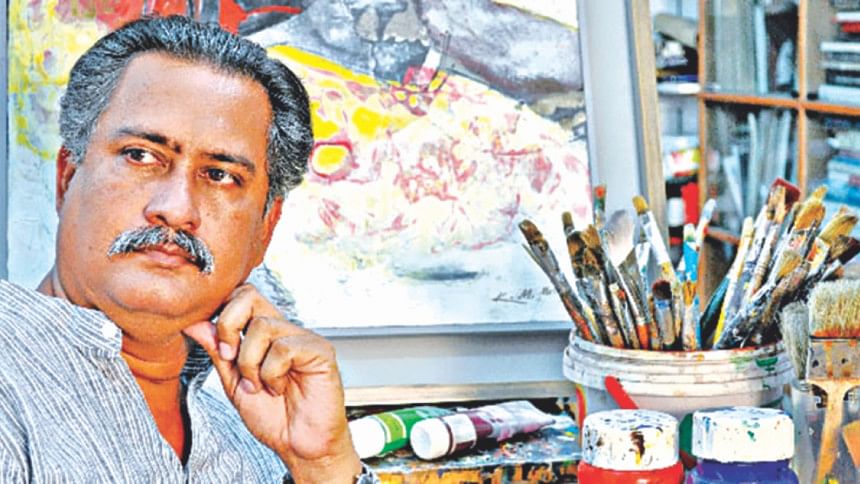 Renowned artist and national award-winning filmmaker Khalid Mahmood Mithu died in a tragic accident yesterday when a large tree fell upon him in the capital's Dhanmondi.
The 56-year-old was returning to his Dhanmondi home by a rickshaw from his Elephant Road office around 1:30pm when the incident happened, family sources said.
About 100 yards off Labaid Hospital, a large rain tree fell on the rickshaw and a parked car, said police and locals.
Locals rushed him to nearby Gonoshasthaya Nagar Hospital where doctors declared him dead.
Mithu, husband of reputed artist Kanak Chanpa Chakma, suffered fatal head injuries and died of brain haemorrhage, doctors at the hospital said.
Rickshaw-puller Abdul Jalil was also injured, said Sub-inspector Khairul Islam of Dhanmondi Police Station. He was taken to Dhaka Medical College Hospital.
On a visit to the spot, the tree was found uprooted and lying across the road, crushing the rickshaw.
Security guards of nearby buildings said the heavy rain on Sunday evening might have loosened the soil surrounding the tree.
Mithu bagged National Film Award as best director for his debut film Gohine Shobdo in 2010.
He and Kanak Chanpa, both students of the Institute of Fine Arts of Dhaka University, got married in 1991.
Kanak Chanpa was in no fit state to talk to the media after the incident. Relatives said their son 20-year-old Arjo Shrestha was in London for higher education. The couple also has a 17-year-old daughter named Shiropa Purna.
Friends and well-wishers mourned the death and rushed to Mithu's home soon after hearing about the incident.
Mithu was supposed to attend a programme at Nordic Club in the capital yesterday evening, said family friend Shubrata.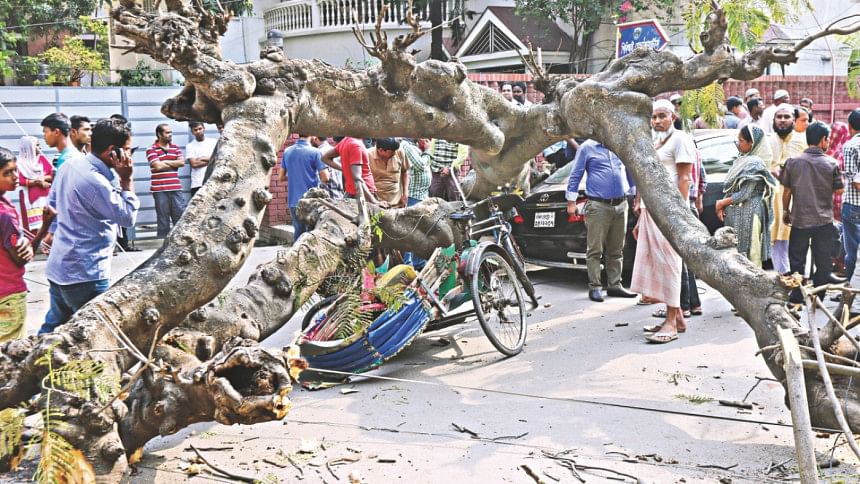 Meanwhile, DU Vice Chancellor Prof AAMS Arefin Siddique in a statement expressed shock over the death and sent his condolences to the bereaved family.
Mithu was a celebrated film director, cinematographer, scriptwriter and video editor.
His second film Jonakir Alo was selected as the Bangladeshi entry for the Academy Award for best foreign language film in 2014, but was not nominated.
Having been son of Begum Momtaz Hossain, a scriptwriter, and nephew of famous film director Alamgir Kabir, he had plenty of encouragement to get engaged in film direction and the media since childhood.
He got the confidence, which he needed to set him on the path, after achieving a photography award during his studies at the arts institute. 
Mithu joined Bangladesh Television in 1986, where he contributed to camera and script work.
He first directed in 1992 "Shopne Shobuj Pahar", a musical TV programme, assisted by the Saarc cultural exchange programme.
The first TV play directed by him was Dhusor Album the next year. He went on to work on more than 60 plays, more than 100 musical programmes and a few documentaries.
Mithu's many solo and group art exhibitions at home and abroad focused on his diversified experience, in which he predominantly captured the country's political turmoil, labour uprising and garments exploitation.
His son Arjo is an international award-winning filmmaker and daughter Shiropa a promising filmmaker and painter.