Airwaves of change
Kurigram's Radio Chilmari successfully promotes social and economic development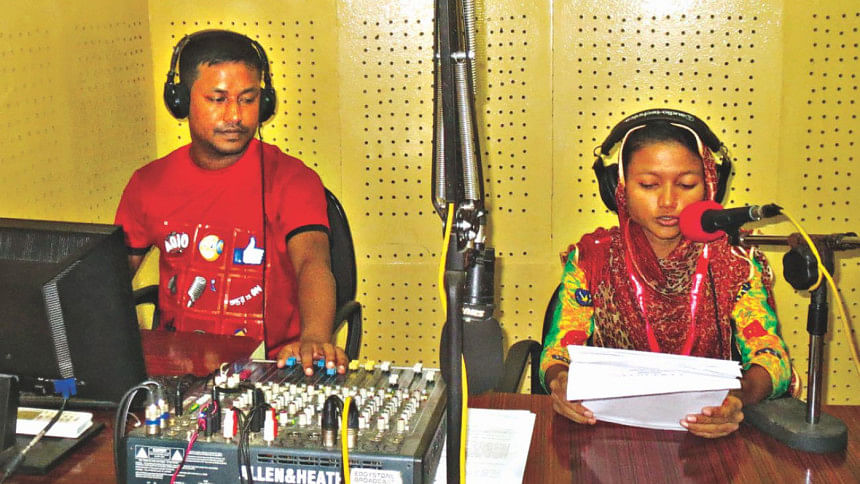 If it's afternoon, chances are assistant teacher Ataur Rahman from Uttar Ramna village in Kurigram's Chilmari upazila is happily listening to the radio. It might be the music programme "Surer Manik" that's captured his attention, or the talkback show, "No Problem", which focuses on solving day-to-day issues. Ataur is hardly alone. Since its first official broadcast in June 2012 people from across Kurigram's southern Brahmaputra river basin have discovered Radio Chilmari 99.2 FM. It's a community radio station with popularity.
"We broadcast all sorts of programmes," says the radio station's in-charge, Bashir Ahmad. "People can wake up to drama, documentaries, talk shows and news. Programmes are tailored to reflect audience interest. Recently we took up a suggestion from a listener for an agricultural programme where farmers can ask questions to an expert, either by calling in or online."
The radio station was established by national development organisation RDRS with the aim of promoting social and economic development. Its broadcast area includes some of Kurigram's least developed villages. The popular "Nareer Katha" programme at 4:35pm on Saturdays for example, is dedicated to women's rights and discusses issues such as domestic violence, divorce and acid violence, as well as featuring women's success stories.
Radio Chilmari has broadcast a drama dealing with the death of an underage mother during pregnancy and another with an anti-tobacco theme. It has run documentaries on education within the marginalised Harijan sweeper community, on the life of a disabled girl, about the ongoing problem of child marriage. Its commitment to development has earned the radio station numerous national and international awards.
But rather than dwell on past achievement, from its studio in Mistripara village of Raniganj union, Radio Chilmari's focus is the future. "Last year we upgraded our broadcast frequency from 100 to 250 watts which means we can cover a transmission range of 25 kilometres," says Shariful Islam Khan, member secretary of the station's managing committee.
The radio station also actively addresses local unemployment. "We have intern volunteers who learn scriptwriting, programme planning and pronunciation, as well as directing, recording and producing skills," says Bashir Ahmad. "Currently we have 22 interns. One of our former volunteers Krishna Kamol Barmon has recently joined a community radio station in Gaibandha as a programme producer."
Lutfunnahar Happy is a first-year student of Chilmari Women's  College and an up-and-coming radio jockey. "I've been working at the   radio station for five years," she says. "I've seen how it's possible to build a career here. After graduation I will try to find a good job in this industry."
Of course a radio station is nothing without listeners. "I used to listen to BBC Bangla service but now I'm an avid listener of our local radio station," says Shefali Rani, 28, a social science master's student from Mandolpara village in Kurigram sadar upazila. "I like their light entertainment and women's programmes, and especially 'Voice of English'. But I wish they had an English programme for advanced learners."
"The phone-in question-answer shows and their family planning programme 'Shukhi Sangshar' should be extended," says another listener, madrassa teacher Abdur Razzak from Matial village in Ulipur upazila. "Bashir Ahmad, Lutfunnahar Happy and Jesmina Sharmin are my favourite presenters. I like their voices and style."