2 more killed in 'shootouts'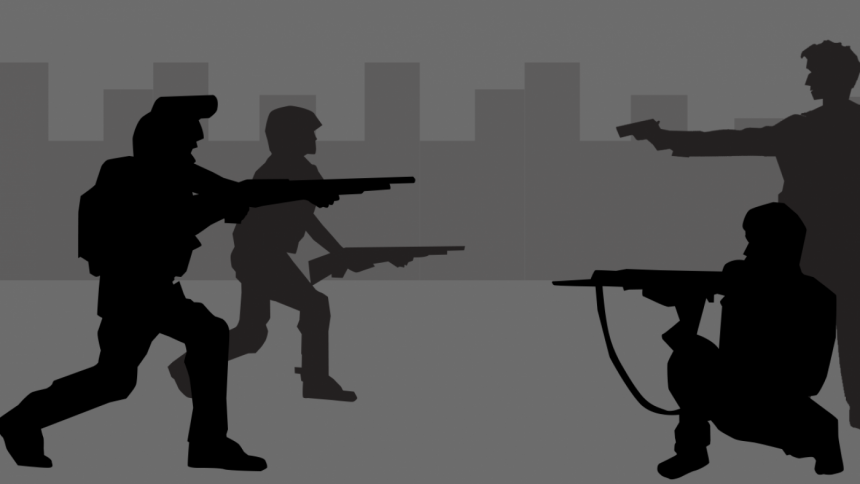 Two alleged drug dealers were killed in what the law enforcers claimed "gunfights" in Tangail and Rangpur early yesterday, taking the death toll to 131 of such incidents over the last 20 days. 
Besides, a suspected drug addict, Kajol Sheikh Maju, general secretary of Panchagarh municipality unit Swechchhasebak League, died an hour after he was picked up by detectives on Saturday night. 
In Tangail, an alleged drug peddler, Ruhul alias Chhoto Ruhul alias Kailla Ruhul, was killed in a "gunfight" with Rab in Kalihati upazila early yesterday, said Rab. 
The 30-year-old man from Paschim Golora village of the upazila stood accused in several narcotics cases, Rab claimed.
According to a text sent by Maj Rabiul Islam, a company commander of Rab-12 in Tangail, a team of Rab-12 started an anti-drug drive in Golora area around 2:30am.
Sensing presence of Rab personnel, the criminals opened fire, prompting them to retaliate.
After the "gunfight", the Rab team found Ruhul hit and took him to Tangail General Hospital where doctors declared him dead, the Rab official said.
Rab also claimed to have recovered a firearm, one bullet, heroin and yaba pills from the spot, reports our Tangail correspondent.
However, Ruhul's wife Rashida Akter said, "One Sumon Bhai of adjacent Taratia area called my husband out of the house around 11:00am on Thursday." 
"Sumon Bhai took Tk 6 lakh from my husband about one and a half months ago for dropping his name from the list of drug traders," said Rashida, mother of a six-month-old boy.
"Ruhul was involved in drug trading previously but left the trade about six to seven months ago and started running a shop near Chhatihati Bazar," said his elder brother Bahadur. 
In Rangpur, police claimed to have recovered the bullet-hit body of alleged drug peddler Rafiqul Islam Opi in Kaunia upazila, said police.
Saifur Rahman, additional superintendent (circle A) of Rangpur police, said Rafiqul was killed in a "gunfight" between two gangs at Tangir Bazar in Haragachh municipality.
Police found the body on the spot around 3:30am, he claimed. 
Police also claimed to have recovered a pistol, 226 yaba tablets and 46 bottles of Phensedyle from the spot, reports our Dinajpur correspondent.
Apart from the death of 131 people in the so-called shootouts, mostly involving law enforcers, more than 13,000 people were also arrested in the 20 days. 
Meanwhile, Bangladesh Legal Aid and Services Trust yesterday demanded immediate stop to extrajudicial killings in the name of anti-narcotics drive by law enforcement agency members.
In a statement, the organisation also sought proper investigation in each of the extrajudicial killings to bring the responsible people to book.
"ADDICT" DIES IN POLICE CUSTODY
An alleged drug addict, Kajol Sheikh Maju, died after he was detained by a team of Detective Branch of police at Baniapotti in Panchagarh on Saturday night, reports our Thakurgaon correspondent.
Sudarshan Kumar Roy, assistant superintendent of Thakurgaon police, said Kajol had been taking drugs for long. He felt severe pain after police detained him and was preparing to produce him before a court.
Police took him to Panchagarh Sadar Hospital where he died within a few minutes.
Zillur Rahman, medical officer of the hospital, said primarily it was thought that he died of cardiac arrest.