Malaysia for stronger bilateral ties with Bangladesh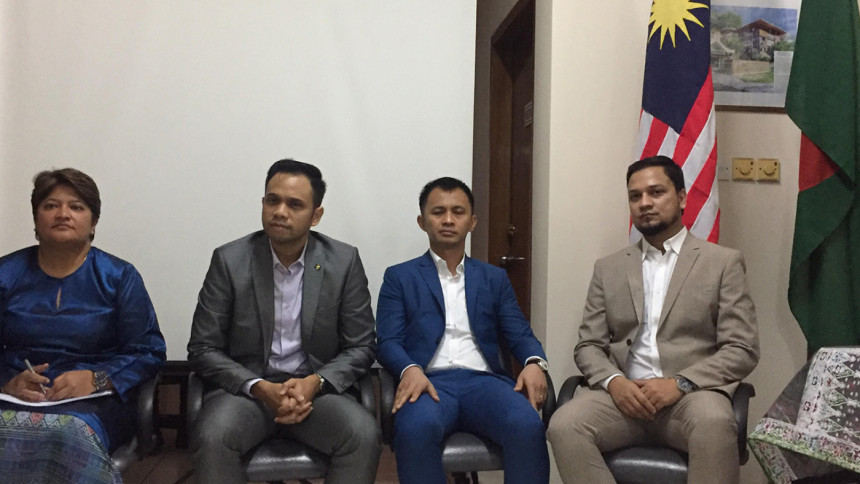 Malaysia's acting high commissioner to Bangladesh has said his country, which is already enjoying a strong bilateral relation with Bangladesh, wants to further improve it through trade and tourism as the Southeast Asian country strives to become a high-income country while Bangladesh moves towards becoming a middle-income nation.
"Both nations enjoy a relationship that is not only seen at the level of governments but can also be seen at the people-to-people level. I must allude to the fact that there are many similarities we share in terms of food, weather and to a certain extent, culture," said Malaysia's Acting High Commissioner to Bangladesh, Amir Farid bin Abu Hasan.
"We want to take forward the relations further," he said at a discussion with journalists organised by the Malaysian High Commission at its premises in the city today, marking the 62nd year of Malaysia's independence tomorrow on August 31.
Malaysia's total trade with Bangladesh was recorded at $2.37 billion last year, a rise by 35.6 per cent, compared to that of the previous year. Bangladesh's export to Malaysia, however, was only $260 million.
"There are a lot of activities going on to improve trade. In July this year Bangladesh-Malaysia Chamber of Commerce organised an event in Malaysia titled -- Showcase Bangladesh.
"We will continue to find ways. A lot of Malaysian businesses are coming to Bangladesh," Amir Farid said.
According to Bangladesh Bank, Malaysia's foreign direct investment in 2018 was $92.74 million.
The Malaysian diplomat said Bangladesh was Malaysia's 22nd largest trading partner in 2018. Major exports to Bangladesh include chemical products, metal, crude petroleum, palm oil, agriculture and electrical and electronic products.
There are many more opportunities of exports to Bangladesh, including consumer goods, construction services, oil, gas and healthcare, according to the diplomat.
Malaysia is also a major tourist destination for the Bangladeshi tourists and healthcare. More than 1,50,000 Bangladeshis traveled Malaysia last year. Also, Malaysia is becoming a hub of medical tourism, especially due to its quality care and affordable cost, Amir Farid said.
He said diplomatic engagement between Malaysia and Bangladesh is becoming stronger, with the high-level visits between the two nations.
In 2017, Malaysia was one of the few countries that immediately responded to Bangladesh's call for assistance from international community during the early weeks of Rohingya crisis. Malaysian government set up a field hospital near Kutupalong camp in Cox's Bazar for the Rohingyas as well as locals, he added.
"Malaysia would like to continue to work closely and engage Bangladesh government in various areas of cooperation – in the field of bilateral and multilateral ways," Amir Farid said.
He said Malaysia, as a member of ASEAN, is working with Bangladesh and Myanmar on addressing the Rohingya crisis.
Malaysia suspended labour recruitment from Bangladesh in September last year following allegations of monopoly by a recruitment syndicate. 
Asked when Malaysia is going to open the labour market, Amir Farid said, "Discussions are still ongoing. We are working together to find a better deal for both the countries."
Malaysian High Commission's First Secretary (Immigration and Consular) Mohamad Yahya bin Rahamat, Tourism Malaysia Dhaka's Marketing Manager Mohammed Shoeb and Malaysia Healthcare Travel Council's Market Development Director Farah Delah Suhaimi also spoke.