Hotel Albatross
Nuhash debuts with gripping hostage thriller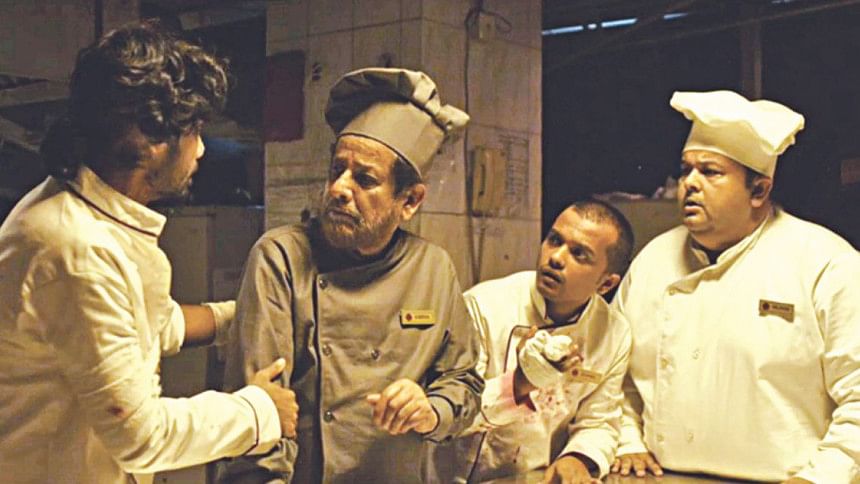 With the satellite channels airing more TV plays this Eid than anyone can keep track of, Nuhash Humayun's directorial TV debut was one that many had made a mental note of. "Hotel Albatross", one of the seven episodes of Amitabh Reza Chowdhury and Mezbaur Rahman Sumon-supervised series "Osthir Somoye Swostir Golpo", did not keep the audience waiting, airing on the Eid day on Gazi TV. And it's safe to say that at least some of Humayun Ahmed's storytelling genius has passed on to his son. With a small but formidable cast led by the inimitable Asaduzzaman Noor, young Nuhash is largely successful in bringing a gripping, tense story to life. 
Set almost entirely inside a kitchen of the fictional high-end hotel, "Hotel Albatross", the story is shown from the perspective of four chefs in a terrorist hostage scenario. Kibria Kabir (played by Asaduzzaman Noor) is an internationally-acclaimed chef who leads the elite kitchen, where he has Taneem (played by Shaan Rahman), a carefree, rather arrogant chef; Sohel (played by Allen Shubhro), a talented, dedicated chef and Kibria Kabir's right-hand man; and Moni (Anondo Khaled), a nervous, meek chef that Kabir brings into the kitchen the very day of the incident. Without giving spoilers, the play takes the audience through the psychological turmoil the four men go through, their attempts to escape and the dangers they face. 
Asaduzzaman Noor, being the Cultural Affairs Minister of the government, rarely has any time for acting, but on his one-off return (presumably for the relationship that he shared with Humayun Ahmed, and by natural extension, Nuhash) is brilliant as ever in his role. The other three also slip into their complex roles with commendable commitment, with a special mention to Allen. His body language and delivery far surpasses his age, and shows why he is leaps and bounds ahead of his contemporaries in the television industry. Nuhash shows in his direction that he understands the genre, and Sumon Sarkar's excellent cinematography with Rakat Zami's background scores make for an audio-visually gripping story. The characters feel real with surprisingly good dialogue , the sense of tension is impeccable, and only in the story's closing does the director's inexperience show a bit, where it can leave some viewers a little confused and unsure. The theme song, composed by Zami and sung by Jon Kabir is also a very nice touch. 
All in all, it is a good start for Nuhash on television, and for the "Osthir Somoye Swosti'r Golpo" series overall. The play, produced by Kandy Productions and Tom Creations, is available for online streaming on the bioscopelive web platform, and is strongly recommended.