Theatre festival held in Sylhet
32nd Anniversary of Sammilita Natya Parishad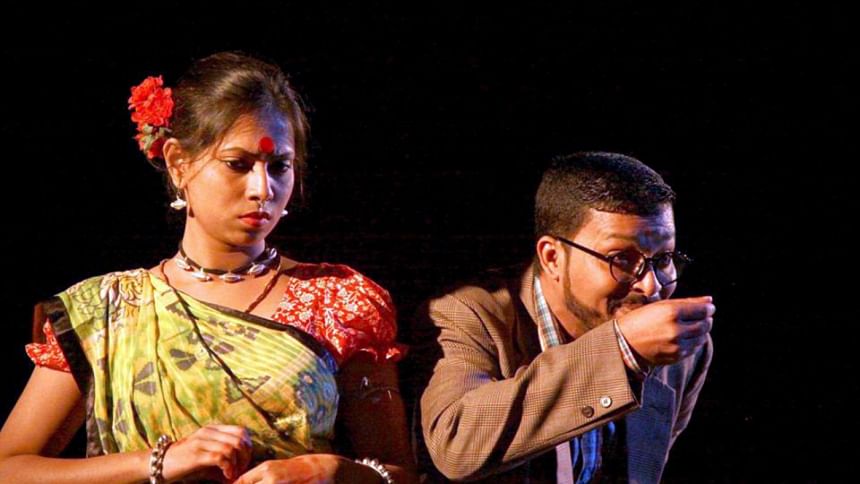 Sammilita Natya Parishad Sylhet, a prominent cultural organization of Sylhet, celebrated its 32 years of journey to the excellence on and off stage, with a three-day theatre festival in the district.
The festival was held at the Kazi Nazrul Auditorium from September 20-22, and saw staging of three plays following a colourful opening ceremony at the open stage (Mukta Prangon) of the auditorium on the opening day.
On the inaugural day, Nagarnat presented a short play named "Adam Test", and other dance and musical organisations performed on the stage.
Theatre Sylhet presented "Ujane Mrittyu", an absurd drama written by the iconic Syed Waliullah, and directed by Kamrul Haque Jewel on the first day. Nabashikha Natyadal presented "Saat Koinyar Kahani" originally extracted from a Nagri written by Syed Shahnur, which was converted to stage drama by Ruma Modok and directed by Sushanta Kumar Sarkar, on the second day of the festival. The drama of the ancient literature of Sylhet presented seven female characters. The festival closed with the drama "Sukher Khoje Sukhlal" of Natyamancha Sylhet, written by Bidyut Kar and directed by Rajat Kanti Gupta. The drama represents the life of the tea workers of the greater Sylhet region.