Expressionism of 'Bon Manush'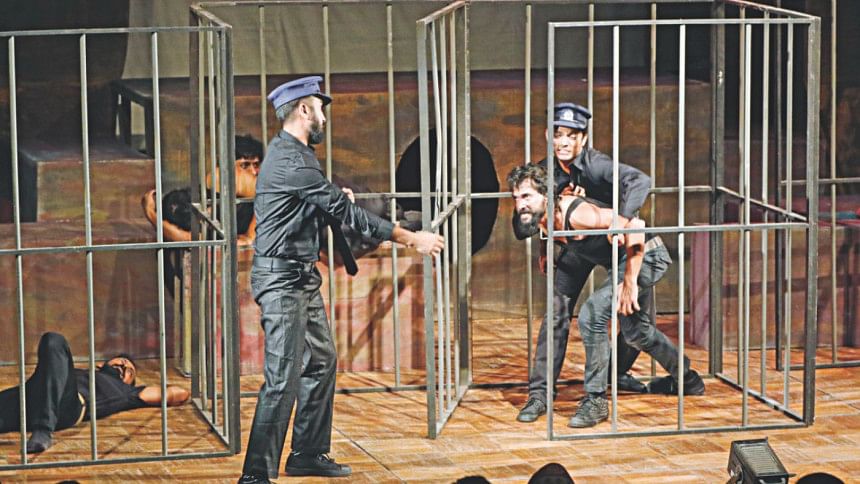 Eminent theatre troupe Prachyanat staged their highly praised production Bon Manush, directed by Baqar Bakul, yesterday at the Experimental Theatre Hall of Bangladesh Shilpakala Academy. The act is an adaptation of the renowned American playwright Eugene O'Neill's 1922 expressionist play The Hairy Ape. The Nobel laureate constructed the thought-provoking play, focusing on the adversities faced by the working class due to their exploitation by the elites.
The protagonist of the play is Yank, a brutish fireman on a ship who boasts of his confidence with his fellow labourers, who are all ruthlessly overworked by their well-off bosses. When the daughter of an industrialist, Mildred, sees Yank at the stokehole and calls him a "filthy beast", the inferiority complex leaves him shattered. Ignited by vengeance, he embarks on a journey to search for a sense of belonging in a subjugated society. Unable to add meaning to the world of capitalism, where discrimination is customary, he goes to the zoo. Here, he meets his demise at the hands of an ape.
The cast had managed to blend the narrative with elements of song, dance and humour with fluency. The verbal and physical pyrotechnics of the protagonist garnered rounds of applause throughout the play. An acappella-like vocal, thudding of the drums along with the acoustic chords, synced with the sequence of the scenes, added an ambience in the hall which made it an excellent experience to enjoy the compelling Bon Manush.