Star Melodies heralds the Spring with romantic songs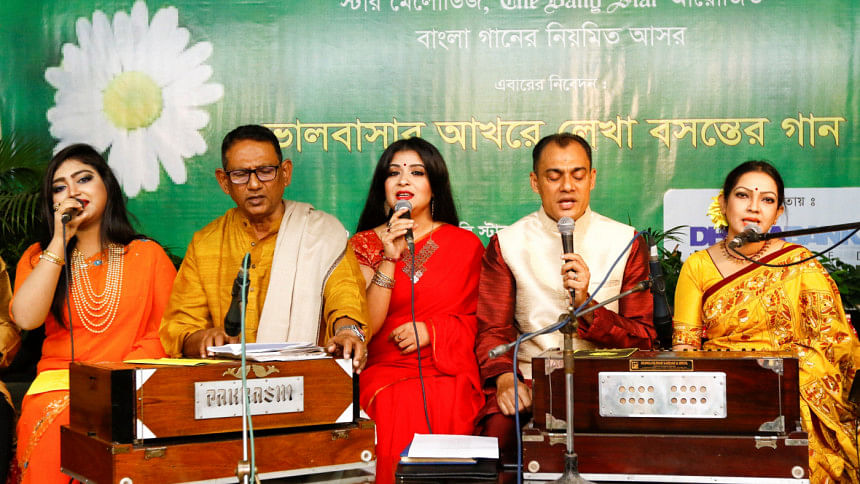 Star Melodies, an initiative of The Daily Star to promote Bangla music, hosted a musical soiree titled, Bhalobashar Akhore Lekha Boshonter Gaan, featuring songs about romance and spring-- the season of love. Sponsored by Dhaka Bank Limited, the event was held yesterday at A S Mahmud Hall of The Daily Star Centre.
Renowned Tagore exponent Fahim Hossain Chowdhury, talented playback singer Anupoma Mukti, along with promising singers Sabuj, Dr Alif Laila and Smoron performed songs at the event. Sadya Afreen Mallick, Chief of Culture Initiatives, The Daily Star, hosted and coordinated the programme.
The evening began with a chorus performance of the song, Moder Gorob Moder Asha, penned and composed by Atulprasad Sen.
Fahim Hossain Chowdhury first took the stage and rendered the Tagore song, Amar Praner Pore Chole Gelo Ke. He later entertained the music lovers with his melodic voice, presenting the evergreen numbers, Ektuku Chhnoa Laage, a Hemanta Mukherjee record, Boshe Achhi Potho Cheye,  and Amar Swapne Dekha Rajkonna Thake, a Shyamal Mitra classic.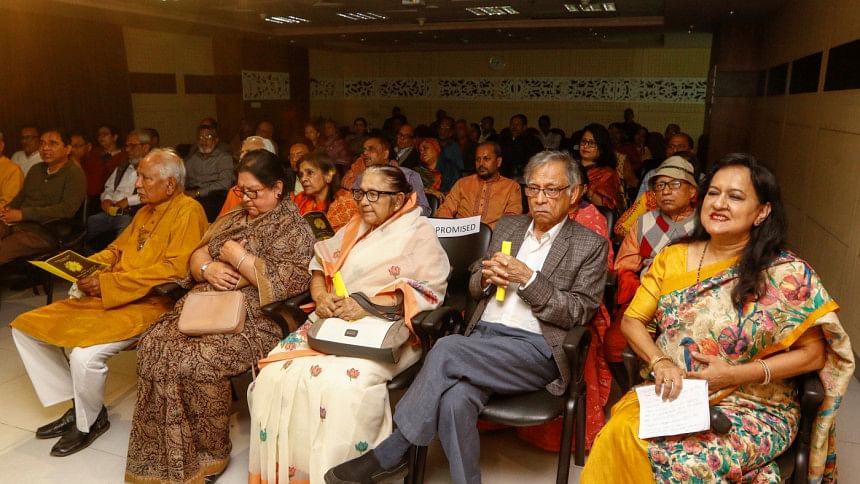 Mingling romance with melodic euphoria, Anupoma Mukti performed several popular songs at the event, including Modhu Malati Dakey Aay, a Sandhya Mukherjee record, O Polash O Shimul, a Lata Mangeshkar classic, and the Runa Laila record, Amar Mon Boley Tumi Ashbe. Mukti's presentation of the songs seemingly won hearts of many.
Dr Alif Laila marvellously presented the romantic song, Abar Bhalobashar Sadh Jagey, written and composed by the National Poet Kazi Nazrul Islam. She later performed a Nachiketa Ghosh composition, Mayaboti Megh-e Elo Tandra, which was first recorded by Sandhya Mukherjee. The singer wrapped up her solo session with Shah Abdul Karim's Bosonto Batashey Shoi Go. The audience warmly received Alif Laila's folk numbers.
Sabuj captivated the audience as he melodiously performed, Hai Borosha Emon Phagun Kere Niona, which was penned by Pulak Bandyopadhyay and composed was first recorded by Satinath Mukherjee. His rendition of the popular Sachin Dev Burman song, Borne Gondhe Chhonde Geetite, was a melodic treat. The singer also sang Tapan Chowdhury's hit number, Polash Phutechhe Shimul Phutechhe.       
Promising singer Smoron began her solo performance with Jatileshwar Mukherjee's Tomar Songe Dekha Na Hole. She beautifully rendered the Subhamita Banerjee record, Tomar Kachhe Phagun Cheyechhe Krishnachura, written and composed by Goutam Ghosal. The artiste also presented Madhuri Chattopadhyay's Gungun Phagun Shesh Hole, which pleased the listeners.
Sabuj and Smoron's duet performance of Tumi Saat Sagorer Opar Hote, written by Gazi Mazharul Anwar and composed by Anwar Parvez, was well received by the audience. The song was originally recorded by late singers Abdul Jabbar and Shahnaz Rahmatullah.
 The soiree concluded with the presentation of the timeless song, Amar Bhaier Rokte Rangano Ekushey February, written by Abdul Gaffar Chowdhury and composed by Altaf Mahmud, as a tribute to the martyrs of 1952 Language Movement.