Kibria International Print Fair 2020 concludes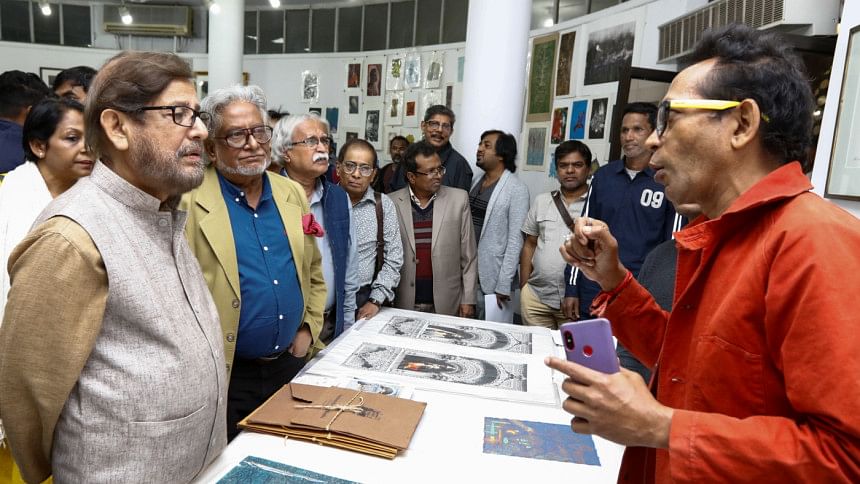 The 9th edition of Kibria International Print Fair, which began on February 13, concluded yesterday at Zainul Gallery, Faculty of Fine Art (FFA), University of Dhaka (DU). Kibria International Print Fair Organising Committee and Kibria Printmaking Studio jointly organised the fair as a tribute to the abstract art master and eminent printmaker Mohammad Kibria.
Prominent and emerging printmakers from various institutes, organisations, and studios exhibited their works at the fair. Former Minister of Cultural Affairs and prominent  actor Asaduzzaman Noor, MP, inaugurated the programme as chief guest, while art maestros Professor Rafiqun Nabi and Monirul Islam, along with Dr Tanim Ud Dowlah, attended the event as special guests. Renowned printmaker Professor Syed Abul Barq Alvi, convener of the organising committee of the fair, presided over the inaugural ceremony. Professor Nisar Hossain, Dean, FFA, DU, delivered welcome address while, noted artist Rashid Amin, Chairman of the Department of Fine Arts, Jagannath University, hosted the event.
"I have had the privilege of meeting many great personalities, including artists, litterateurs, poets, politicians and intellectuals. I believe, this is the major achievement of my life," said Asaduzzaman Noor. "The history of our glorious movements of the 60s revolved around arts and artists. We used to go to the hostel of the Dhaka Art College where I used to write posters, banners and more. Kibria Sir, who was the superintendent of the hostel at that time, would inspire and suggest us in many ways."  
Monirul Islam said, "Many do not give importance to print media. However, there is a lot of labour behind it. The language it expresses is completely different from other art forms. On the other hand, I am proud to see how Bangladeshi artists are showcasing their work abroad."
Acclaimed printmaker-painter AKM Alamgir Haque was honoured with the lifetime award for his significant contribution to the medium at the inaugural programme. He received a crest and an honorarium of BDT 50,000.
Department of Printmaking, FFA, DU, Painting-Oriental-Printmaking Department, Faculty of Fine Arts, Rajshahi University, Printmaking Discipline, Institute of Fine Arts, University of Khulna, along with Department of Fine Arts, Jatiya Kabi Kazi Nazrul Islam University, Department of Fine Arts, Jagannath University, Printmaking Studio, Department of Fine Arts, University of Development Alternative, Cosmos Atelier '71, Kalidas Printmaking Studio, Studio 48, Karkhana Art Space, Bangladesh Printmakers Association, Flame Arts Open Studio and Kibria Printmaking Studio, among others, participated in the fair.