Farewell to the Renaissance Man
Aly Zaker remembered by Monchosarothi Ataur Rahman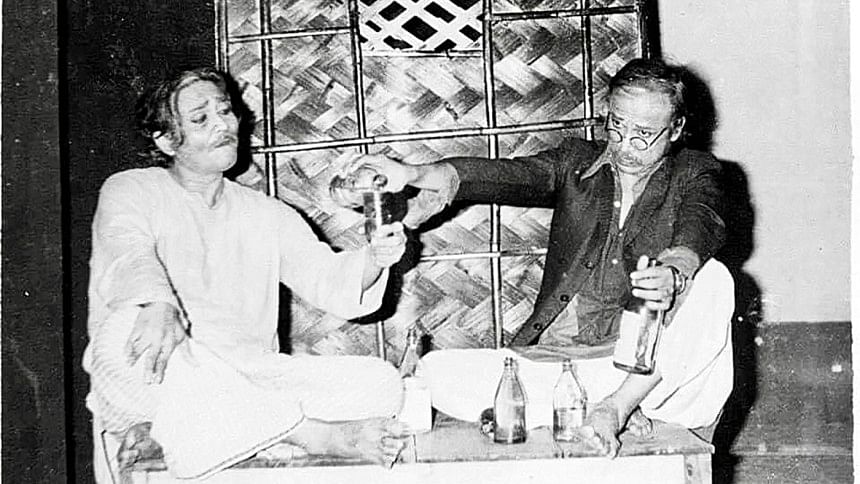 Aly Zaker, known in his intimate circle as "Chhotlu" left us for eternity on November 27, 2020. He was 76.
As a passionate theatre practitioner for  the last 48 years, I had the good fortune to be very close to him. He started theatre immediately after the Liberation War of Bangladesh, and joined Nagorik Natya Sampradaya in 1972.
The man made history in theatre for his extraordinary portrayal of the lead role in "Dewan Gazir Kissa". His character, Dewan Gazi, became a household name in those days. The story was adapted by Asaduzzaman Noor from the comedy,  "Mr Puntila and his Man Matti", written by famed German playwright Bertolt Brecht. "Dewan Gazir Kissa" had over 371 performances, making its premiere in 1977.
Aly Zaker acted in a major role in Michel Madhusudhan Datta's renowned story, "Buro Shaliker Garae Ro", which was performed in the then WAPDA audition. The performance ran for three nights. In the earlier days of Bengal, plays of different content and texture used to be played for two to three nights by different small and big organisations.
The plays used to be enacted during different socio-cultural occasions. The Zamindars (landlords) in those days used to sponsor stages for theatre and cultural performances in their premises. Besides, different educational institutions used to present yearly dramas for two to three nights. Office clubs and different neighbourhoods used to have theatrical performances for entertainment and social mingling. 
Aly Zaker came up with the idea of running a theatre performance in the evening in exchange of selling tickets at that time, and it was a huge success. It ran on the basis of the spectators' demands for the play, much like a movie.
When he directed Badal Sarker's "Baki Itihash" it ran for eight performances at the British Council Auditorium in exchange of tickets of BDT 5 and BDT 10. Nagorik Natya Sampradaya had to eventually move to Mahila Samity of New Baily Road (now Natok Sarani), which was in a dilapidated condition in those days. With the efforts of all other theatre groups, namely Theatre, Dhaka Theatre, Dhaka Padatik, Aranyak among others, the auditorium became a staple of theatre. Thus, Aly Zaker broke the barrier of limited theatre performances of the bygone days in conjunction with his co-workers. "Baki Itihash" was a difficult and existentialist play, but it was successful which got audience acceptance due to Aly Zaker's extraordinary gift as a theatre director.
Aly Zaker was a well-read person with appreciable knowledge in both English and Bengali literature. He was capable of writing and reading both the languages at ease. His vocabulary and  writing capacity were impeccable.
In contrast to age-old ideas relating to theatre, he rose to great heights as a director and actor. He aptly directed the play "Sat Manusher Khonje" an adaptation of "Good Person of Setzaun" by Berttolt Brecht. It ran for a staggering 55 performances. Aly Zaker's acting in "Shahjahan" by D L Roy was highly appreciable. Although Aly Zaker physically very much contrasted the frail and heartbroken Moghul Emperor Shahjahan, he covered that up with his acting talent.
Aly Zaker, over time, turned out to be one of the most talented actor-directors in his era. He created history in the role of Galileo Galilei. German playwright Bertolt Brecht's play was translated by Professor Abdus Selim and directed by myself. The late Syed Shamsul Haq, our great poet-playwright in his regular column titled Hrith Kolomer Tane, had written in the daily Sanbad that the director had done a great job by setting the play in the small auditorium of German Cultural Institute in Dhanmondi Road 2.
His extraordinary performance in "Nurul Diner Sarajibon", which he directed himself, will also be remembered forever. The play was written by Syed Shamsul Haq.
Aly Zaker very aptly adapted and directed Shakespeare's "Hamlet" as "Darpon", which received the audience's profound acceptance. He will also be remembered for his superb acting in Shakespeare's "Macbeth" in the lead role. Directed by Christopher Sanford, the play was sponsored by the British Council of Dhaka. He was  equally good as a performer in the lead role as Prospero in Shakespeare's play "The Tempest", directed by Debora Warner from England. Both the plays were sponsored by the  British Council, and were performed by the local theatre practitioners of different theatre  groups of Dhaka.
Aly Zaker created a new wave amongst the audience of Dhaka, when he directed and adapted German playwright Carl Zuckmayer's play "The Captain of Köpenick". The play was performed in the 'theatre in the round' style within the Mahila Samity auditorium. Eminent actor and reciter Asaduzzaman Noor acted in the lead role. Aly Zaker innovated a new style -- the actors used to change their costumes in front of the audience while the play was going on. Each of us had to depict more than one character of the play.
He was successful in every aspect of his life. He was a responsible family man. He was fun-loving and a great storyteller. His residence was a great place for rendezvous of friends of varied areas of knowledge and interests. Aly Zaker used to love kids very much, and carried the innocence of a child in his heart.
Although he was a well-travelled person, he loved Bangladesh the most. Our flora and fauna, sky, rivers and people appeared to him. He was a courageous freedom fighter during the Liberation War, and he was an English newscaster in Shadhin Bangla Betar Kendra.
The great man fought cancer for the last four years of his life, like a hero. He has left us all in a void, but the countrymen will remember him for all the time to come as a 'renaissance' man. We all will miss him forever. Au revoir, my friend!
.............................................................................
The writer is an eminent actor, writer, director, and a recipient of the Ekushey Padak.