Chobi Mela X to open today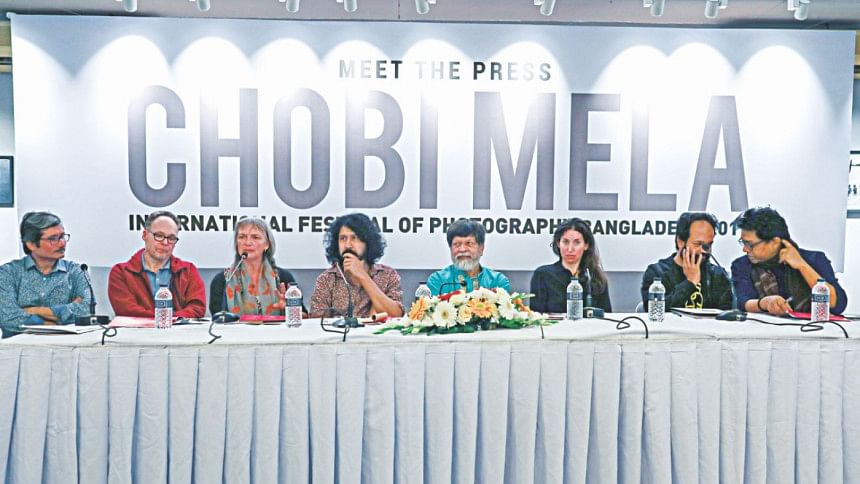 The tenth installment of the much anticipated Chobi Mela is scheduled to begin today and conclude on March 9. A press conference was held yesterday at Drik Gallery in Dhanmondi regarding the occasion. Festival Director Shahidul Alam, along with the curatorial team comprising of Munem Wasif, Tanzim Wahab, ASM Rezaur Rahman, Sarker Protick and other guests, gave a brief on the wide range of programmes scheduled for the festival. The festival will begin with an opening rally from Pathshala South Asian Media Institute, following an inauguration ceremony at Chhayanaut Auditorium. This year's theme for Chobi Mela X is 'Place', and in accordance to that, they have selected different venues across Dhanmondi, to hold the various segments of the festival.
Considered as one of the most significant photography events in Asia and the first of a regular biennale, the International Festival of Photography is being organised by Drik Picture Library Ltd and Pathshala South Asian Media Institute. 21 countries, including Australia, Germany, USA, Nepal, Italy, Brazil and others, will participate this year. Eminent luminaries like Arundhati Roy, Gerhard Steidl, Moushumi Bhowmik and Raghu Rai are a few of the names to grace the festival.
Among the extensive list of events scheduled for Chobi Mela X, it will host 1 Lifetime Achievement Award, 33 exhibitions, 31 artist talks, 13 fellows, 7 film screening, 8 workshops, 10 portfolio reviews, 6 panel discussions and much more, throughout the ten-day festival. The event is free and open to the public through registration. For more information, visit the website www.chobimela.org.