Bangladesh Art Week celebrates womanhood
Group exhibition 'Ora Egaro Jon' underway at Dhaka Gallery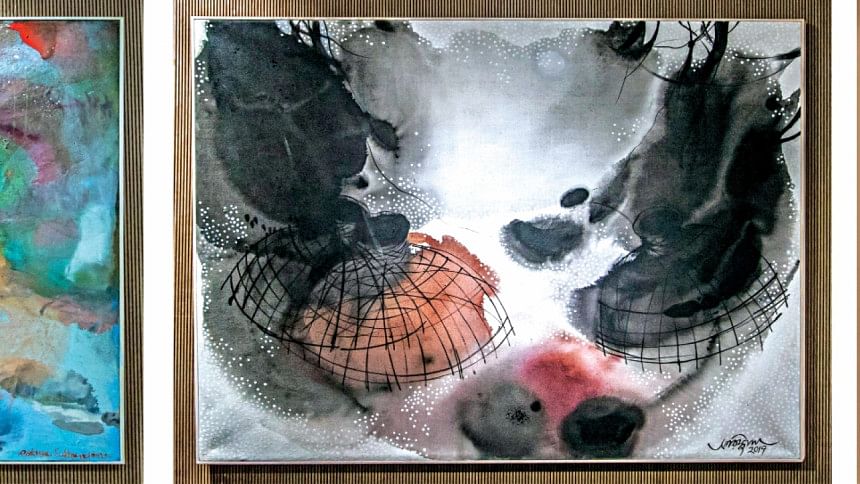 Bangladesh Art Week (BAW) is celebrating womanhood through a unique exhibition, titled 'Ora Egaro Jon', which is underway at Dhaka Gallery, Banani. Featuring a female-led group art exhibition, BAW Women 2020, is open for all till March 14.
The exhibition is a revolutionary foray in the field of creativity, for which, Bangladesh Art Week's Founder Niharika Momtaz and Co-founder Mohammed Mohsin supported all the activities on their organisation's behalf. 
Ambassador of Norway to Bangladesh Sidsel Bleken inaugurated the exhibition as the chief guest on March 7. Selima Ahmed, the Vice Chairperson of Nitol-Niloy Group and the Founder and President of Bangladesh Women Chamber of Commerce and Industry, Runa Khan, Founder and Executive Director of Friendship NGO, along with Niharika Momtaz and Mohammed Mohsin spoke among others at the opening ceremony.
"Bangladesh has a rich heritage. Women have great contributions to the excellence of the country's culture," said Sidsel Bleken. "The women are no longer lagged behind men in any regards. The exhibition is a proof of that. The artworks at this event are incredible."
Prominent and promising artists, including Farida Zaman, Ivy Zaman, Dilara Begum Jolly, Rokeya Sultana, Kanak Chanpa Chakma, Preema Nazia Andaleeb, Ayesha Sultana, Tasneem Tariq, Salma Abedin Prithi, Farzana Haque and Rumana Rahman, are showcasing their artworks, ranging from paintings to prints, architecture and sculptures to videos and performance art.
Dilara Begum Jolly is an eminent sociopolitical artist. She creates serious and sensitising works, delving herself into past events. Jolly portrays the silent tortures of women during the Liberation War of Bangladesh. "The battle for women's rights is still on in our society. The resilience of oppressed or tortured women is magnanimous.  They sacrifice a lot," said Jolly. "If our society becomes female-friendly, we will make significant progress in all regards. We need to raise our voices unanimously to bring unvoiced matters to the forefront."        
Renowned artist Rokeya Sultana asserted, "I think womanhood should be celebrated every day.  I still don't see the proportionate presence of women in any programme. She is showcasing her work, titled Homage to Michelangelo, where she portrayed three hands of God, Adam and Eve. The feminine presence in her painting beckons a call for equality.
The purpose of BAW is to create an assorted artistic environment as well as promote Bangladeshi art worldwide. It aims to uplift the local art industry through interaction, guidance and exposure.
"BAW is a platform of artistic genius, a gathering of multifaceted expression of the inner workings of the human psyche, a manifestation of innate thoughts through pen, pencil, colour and paper," said Niharika Momtaz.
Ora Egaro Jon has been graced by the artworks of eminent and emerging female artists of our country, who have supported BAW's endeavour by strengthening its diversity. In addition, BAW has introduced a platform for emerging artists across the spectrum of visual arts, performing arts, sculptural installations, architectural installations and photography. These artists have been selected through a juried process.