An offering of songs of language and love in spring
Star Melodies' musical programme today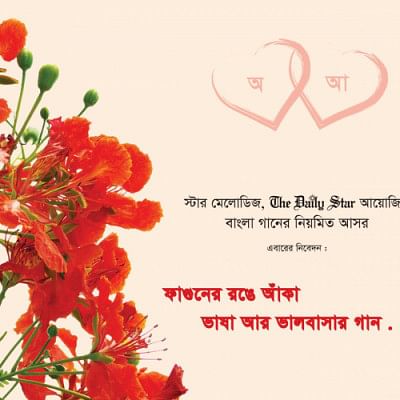 As part of our regular musical programmes, Star Melodies, an initiative of The Daily Star to promote Bangla music, will host a special musical evening titled, 'Falgun-er Rongey Aanka Bhaasha O Bhalobashar Gaan' (Songs of language and love portrayed through the colours of spring).
In honour of spring and the Language Martyrs' Day, the programme will be held today at 6 pm at The Daily Star-Bengal Arts Precinct at The Daily Star Centre.
Noted artistes Khairul Anam Shakil, Aniruddha Sengupta, Champa Banik and Afsana Runa will sing at the event. In addition, students of IUBAT will also perform.  Sadya Afreen Mallick, Chief, Culture Initiatives, The Daily Star, will host the programme.
Invitation passes can be collected from The Daily Star Centre. Seats are limited and available on a first-come first-serve basis.