Miles announces grand celebration for 40th anniversary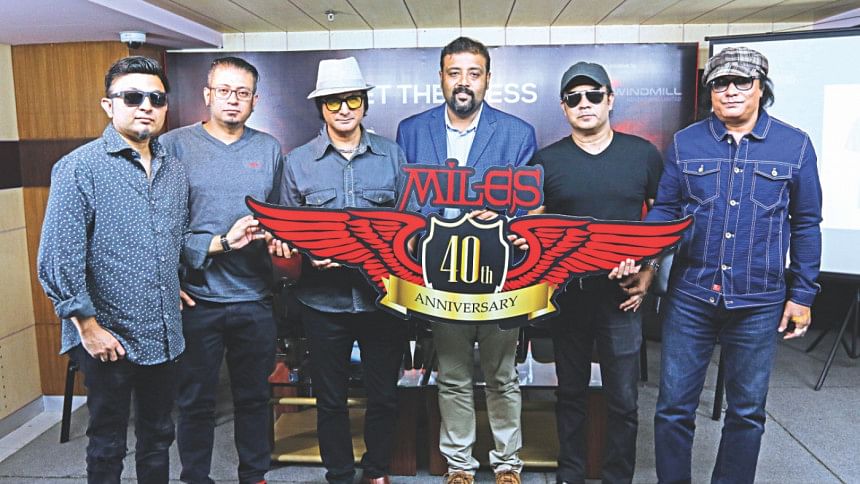 Formed in 1979 by Farid Rashid, Miles embarked on a musical journey that played a prominent role to shape the band music scene in Bangladesh. As this year marks their fourth decade as musical marvels in the entertainment industry, Miles, in association with Windmill Advertising Limited, held a press conference at The Daily Star Centre yesterday.
Band members Shafin Ahmed, Hamin Ahmed, Manam Ahmed, Syed Ziaur Rahman Turjo and Iqbal Asif Jewel, along with Windmill Managing Director, Sabbir Rahman Tanim, all spoke at the event.
"As part of celebrating our 40th anniversary, we have drawn up a grand plan. We will conduct an international tour, where we will play at multiple exclusive solo concerts in the USA, Canada and Australia," informed front man Shafin Ahmed. The period of the overall programmes planned, will begin from this month onward and will run till December.
He later conveyed in brief, the band's history. He also mentioned how Miles was the first band to have set many milestones in Bangladesh including, the first band to be sponsored by a soda company, the first band to play at an international concert, the first band to tour USA and many others.
 "This tour can be termed as 'Magic of Miles'. Apart from the international performances, Miles is also scheduled to celebrate their joy with the citizens of Bangladesh," mentioned Sabbir Rahman Tanim, during the press meet. "We have planned road shows, concerts and much more across Chattogram, Rajshahi, Sylhet and Khulna, to make this occasion a truly memorable one."
The finale of the celebrations will include a grand gala, to be held at International Convention City Bashundhara (ICCB). According to the organisers, it will be a one of a kind concert, where many renowned bands of the country will also join in to sing and play songs by Miles, as a tribute to the band. To make the overall celebrations more enigmatic, a list of arrangements have also been made, including an exhibition that will showcase the instruments used by Miles, rare photographs, discussions on unknown facts regarding the band, segments to pay tribute to the late and former members of Miles and many other activities.