"Music is a natural form of expression for me"
In conversation with Waqeel Ahad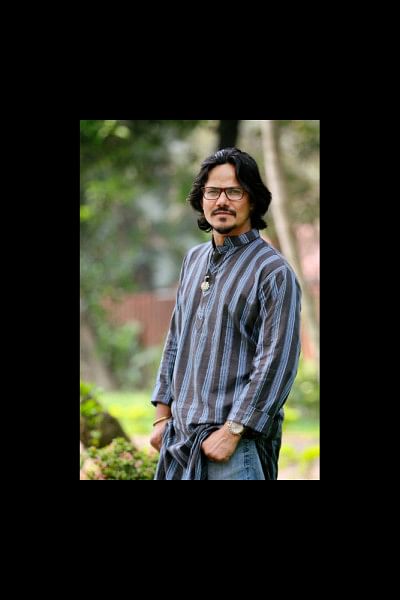 Waqeel Ahad is a familiar name to music connoisseurs of the country. An avid songwriter and musician, Waqeel has treaded various paths of music, although his repute is in folk. The singer-composer recently also ventured into a new avenue of the arts, playing an important character in Liberation War-based film "Bhuban Majhi". In a candid conversation with The Daily Star, Waqeel shares his artistic process and future plans. Excerpts:What is keeping you busy lately?
Waqeel: At the moment, I am working with Bappa Mazumdar on an album of my original songs. We have completed two tracks. I have some live shows coming up on Pahela Baishakh, so preparations are on for that. Apart from that writing and composing songs is always going on.
On that topic, you have reportedly written over a thousand songs. What is the drive behind that?
Waqeel: My father is a writer and freelance journalist, and from a young age I used to write rhymes and poems. In my teens I started writing songs in my diary, and I realised anything I want to express strongly, it comes to me through songs. The music of any part of the world reflects the societal and cultural structure, and that is why music of different parts of the world sounds different. But I don't feel constrained by that. I feel like someone can sit at home and write music of the hills. I have many songs that musically sound like they are from somewhere else. But it's also a bit of a growing pain that I cannot record or perform all those songs; people often want to listen to the songs you have already made and are popular. That bothers me at times.
Now, going away from music a little bit, how did you end up acting in a full-fledged feature film?
Waqeel: I was a part of theatre troupe Loko Natyadal for years, but not with plans to act in films or TV. I delved into it because everything in life we go through there is a part of theatre in it. I met Arefeen bhai ("Bhuban Majhi" helmer Fakhrul Arefeen Khan) while singing for another project of his. And he thought I would be the right fit for a character in the film he was looking for.
What has the feedback been for your acting debut? Does it mean you'll be acting more regularly?
Waqeel: The feedback has been good; people have praised the film, and my work in it. But personally I feel like I should have done better, if I could do it with a little more time and better orientation. About further acting plans, I don't want to do it just for the sake of it: If there really is something in it for me as an artiste, then why not? I actually did act in a short film titled "Shakkhatkar" before "Bhuban Majhi", which will hopefully come out soon.
As an artiste, what's the big goal?
Waqeel: I want to write songs and sing for as long as I can. I want to play the flute, and paint. Through my music, I am also doing some awareness-building work; that is another avenue I want to go far. And I want to work for children. In a nutshell, I want to inspire people through whatever I do. I want my work to be meaningful. As a person and an artiste, I am always open.