Kalyan and Grace
A blissful beginning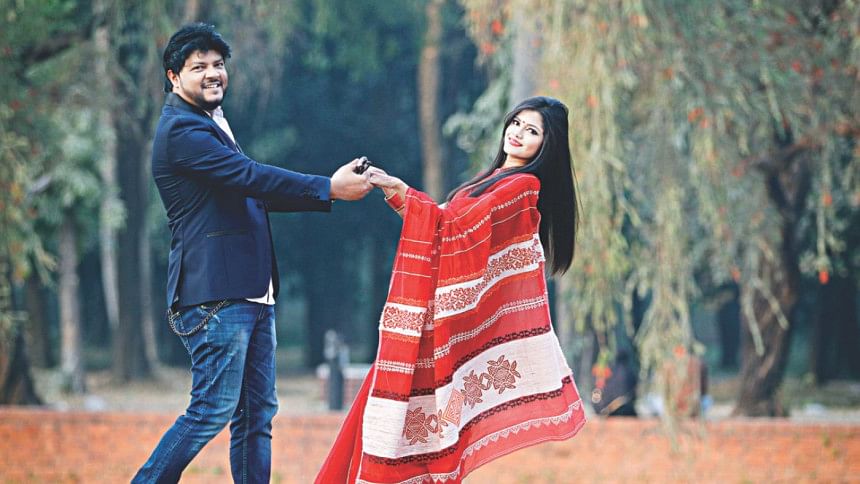 February is a special month for Bangladeshis; with yesterday marking Pohela Falgun and today being Valentine's Day, the streets of Dhaka are now awashed with vibrant shades of canary yellow, green, orange, and crimson. But the festive season will be even more special for the newlyweds, fully absorbed in each other and heady from the vibrancy of spring and new beginnings. Such is the case for popular actor Kalyan Corraya, who tied the knot with Grace Violet D'Costa last year on December 27. From celebrating New Years, to Pohela Falgun and Valentine's Day, the first three months for the new couple has been a significant series of shared firsts. Kalyan and Grace met through family acquaintances in USA, where she had been living since 2016 for further studies. In a recent conversation with The Daily Star, the couple opened up about their new life together.
The Daily Star's readers would be very curious to get to know you, Grace. Could you tell us a bit about yourself?
Grace: I have been living in Baltimore, USA, since 2016 when I moved with my parents and brother. Right now I am majoring in Economics at the Community College of Baltimore County. I arrived in Bangladesh on December 7 last year, and on the 27th we were married. My family left soon after, and I have been here with just my husband and his family.
Pahela Falgun and Valentine's Day will be significantly different and memorable for you both. What have you planned for this time?
Kalyan: It isn't just those particular occasions; there was my birthday which we celebrated while we were on our honeymoon on January 28. This entire year has swept us both off our feet! For Pohela Falgun, we have hosted a large gathering to celebrate spring together with family, and also a belated birthday party for myself and my cousin. I surprised her with a new sari, and I presented my parents with new clothes as well. For Valentine's Day we have planned an outing which includes visiting relatives, and also have dinner somewhere. If we have time, we might drop by at the Ekushey Boi Mela.
How did your first birthday celebration with your new bride go?
Kalyan: Coincidentally my birthday coincided with our one month wedding anniversary, and we were honeymooning at Bali at the time. At midnight my wife surprised me with a cake in our hotel room, and the following day we went sightseeing around the city, after which we had a candlelit seafood dinner by the shore. I was not only celebrating with my wife for the first time; before getting married I had never been away from my family on my birthday. I received wishes online from fans and acquaintances online, as well as over video calls with family and friends.
Grace: It was truly the best time I've ever had.  I am quite sad as I have to leave later this month as my classes will be starting soon. I won't be able to return until my semester ends in six months.
What advice do you have for couples in

long distance

marriages and relationships?
Kalyan: The most common struggle everyone faces is miscommunication, because you can't see your partner in person. All I can say is that trust, loyalty, and understanding is very important. You must be very open and share all your feelings and experiences with each other, and respect your partner's space.
Grace: It is important to manage time for each other, no matter how busy you are. My husband and I lead quite different lives as he is in the showbiz industry, but our marriage has been blissful and smooth so far because of our openness towards each other.