"I won't be working for a week…"
Jyotika Jyoti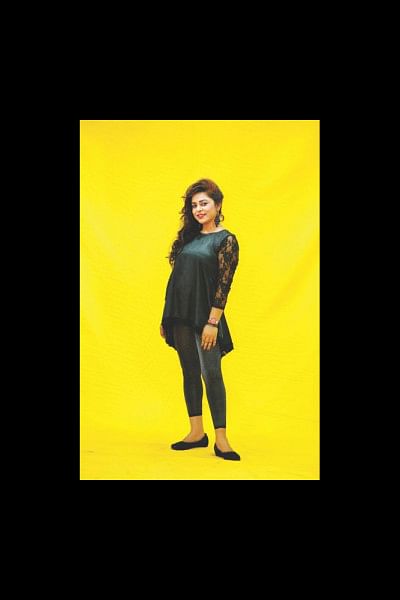 Talented actress Jyotika Jyoti is in a good place in her career. With a strong foothold in both the big and small screen, her versatile acting has landed her a myriad of roles. Currently the actress is working in a West Bengal film titled "Rajlokkhi O Srikanto". In a recent conversation with The Daily Star, the actress talks about her plans for the Durga Puja festival and more.
What are your plans for Puja?
Jyotika Jyoti: For Puja, I will return to Mymensingh to be with my extended family. I have a brother who is settled in Singapore, and he never gets to spend the Puja festivals with us. This year he will be there, which I am really looking forward to. My friends are also planning to join me in Mymensingh, which will be pretty exciting. I will spend one day in Dhaka with my loved ones. Another day I plan to visit the mandap in Gouripur, and spend time with the local residents in my area.
What is the best meal you have ever had on vacation?
Jyotika Jyoti: Wherever I go, I hunt out the local traditions, be it food, groceries, ornaments or attire. There is a rice noodle dish in Bandarban that I love. Whenever I go to Nepal I seek out momos, and in Malaysia I eagerly look forward to all the nasi dishes.
If you could learn any skill, what would it be?
Jyotika Jyoti: There's so many things that I want to learn. I have been doing my best to acquire all the skills I can. When I had to travel to Cox's Bazaar extensively for shooting, I tried to learn surfing during my time off. I would love to learn how to sing, deep sea diving and horseback riding.
What are you currently busy with?
Jyotika Jyoti: I am working on single episode plays. I have also been busy with photo shoots for Puja. For the festival, I will be on several live talk shows. I won't be working for a week during the Puja festival, but after it's over I will travel to Kolkata to resume filming for "Rajlokkhi o Srikanto".