Acting comes easily to me: Monira Mithu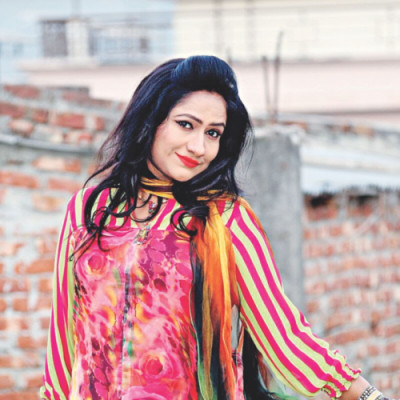 Seasoned actress Monira Mithu won the heart of many with her versatile acting skills in television plays and cinema. The actress talked about her professional life in a recent conversation with The Daily Star.
What makes you tick as an actress?
Mithu: Acting comes easily to me. It's my passion, dedication; I am in a way psychologically dependent on it. 
But has there been an incident when a shot was difficult for you?
Mithu: This one time when we shot till midnight, and I was feeling very tired. I had a scene when I had to cry my eyes out, and that was quite taxing. But at the same time, it was more rewarding when the viewers received the play warmly after it was telecasted.
When was your first time in front of the camera, and how was it?
Mithu: I appeared in the play "Openty Bioscope" directed by Humayun Ahmed. As I was standing before the camera for first time, my mind went kind of blank. But later, noted actress Champa was thoroughly impressed by my acting for the play and appreciated me highly.  
Are you satisfied with your acting career? Is there a role you want to, but are yet to play?
Mithu: Although artistes can never be fully satisfied with their work, I'm happy with my acting. I have played almost every role I've wanted, except maybe for the character of female cop. 
What do you consider your greatest professional achievements?
Mithu: People's adulation, and the Meril-Prothom Alo Award that I won for the play "Emon Deshti Kothao Khuje Pabe Nako Tumi". It was directed by Mostofa Sarwar Farooki and Redoan Rony.
What was your childhood dream?
Mithu: In my early days, I wanted to achieve top grade in school. My elder brother, actor Challenger looked after me since I lost my mother at the age of nine. For a period, we stayed at our village home where I read at a small school there. At that time, I dreamt of becoming a first girl in school.
Your favourie authors …
Mithu: Humayun Ahmed, Rahat Khan, Aktaruzzaman Illias and Humayun Azad
What are your favourite travel destinations?
Mithu: Bandarban, Rangamati, Cox's Bazar and Saint Martin's.