Ferdousi Priyabhashini passes away
Another tragedy struck the nation deeply as Freedom Fighter, eminent sculptor and outstanding personality Ferdousi Priyabhashini passed away yesterday at 12:45pm. Cultural Affairs Minister Asaduzzaman Noor, MP; writer-researcher and Ekattorer Ghatak Dalal Nirmul Committee President Shahriar Kabir and others shared many aspects of her life and art.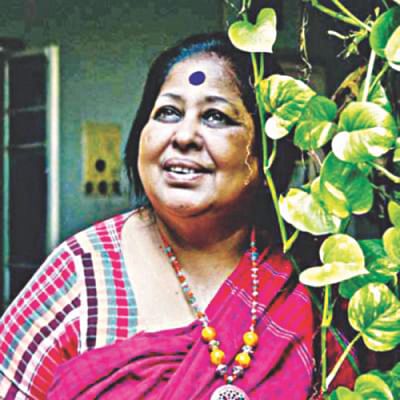 "Ferdousi Priyabhashini was a free will. During her twilight months, she went through many physical complications. She always held the conscience of Liberation War in all the phases of her art and life. She was an active voice for the justice of war criminals and human rights. A piece of Bangladesh is represented in every work by her. We have lost a vital voice of our Liberation War," said Cultural Affairs Minister Asaduzzaman Noor.   
"Ferdousi Priyabhashini was with us from the very beginning of the Ekattorer Ghatak Dalal Nirmul Committee movement, where she was the vice-president. We paid her citizens' ovation at Bangladesh National Museum in 1999, when she decided to publicly describe the atrocities she went through by the Pakistani occupational forces in 1971 and none could hold their tears. Thus she established the status of Birangonas as Freedom Fighters in our society, and we published the testimony of her persecution. She held war children close to her heart and proudly declared that she was their mother. As a sculptor she took her artwork to new heights. She transformed many left-over materials of nature into art. Her passing was untimely and her absence will never be filled," shared Shahriar Kabir.     
"The life and art of Ferdousi Priyabhashini are synonymous. She is the victim of time. When war breaks out, women become victims of persecution. Her dream, morale, courage and struggle are so awe-inspiring that she can be regarded as the mother of new emergence. Ferdousi Priyabhashini practised art like a saint getting inspiration from the kutum-katam style of Shilpacharya Abanindranath Tagore," said Rabiul Hussain, art critic and architect. 
"Ferdousi Priyabhashini was the first one to publicly announce herself as a Birangona, a term coined by Bangabandhu Sheikh Mujibur Rahman. This shook the world. As an honest and courageous personality, she struggled through her entire life for the justice of anti-liberation forces," said Rumi Noman, Chief News Editor of ATN Bangla and director, Gallery Shilpangan. 
"Ferdousi Priyabhashini fought her entire life with courage and honour to establish the contributions of our Birangonas in society. We have many things to learn from her life," said Iffat Ara Dewan, noted singer. 
"We are at peace to get close to such an unparalleled personality, Priyabhashini, who was a Freedom Fighter and eminent sculptor. Many laid down their lives for freeing our country but women like Ferdousi Priyabhashini bore the intolerable physical and mental persecution with courage," said Nishat Jahan Rana, writer-documentary filmmaker.   
Priyabhashini was born on 19 February 1947 in Khulna, Bangladesh, to Rowshan Hasina and Syed Mahbubul Hoque. Her first exhibition was jointly inaugurated by artist S M Sultan and poet Sufia Kamal, and anchored by Syed Shamsul Haque. Priyabhashini married Ahsanullah Ahmed in 1972. Together they have three sons and three daughters.
Ferdousi Priyabhashini was conferred the Shadhinata Padak by the Government of Bangladesh in 2010.
She leaves a void in our national identity that will never be filled.