The unseen Bangabandhu
Dr. Shahidul Alam reflects upon "Chitrogathay Shokgatha"- an exhibition of rare and unseen photographs of Bangabandhu Sheikh Mujibur Rahman -- that was held recently at the South Plaza of the Parliament Building commemorating the 40th death anniversary of the father of the nation, Bangabandhu Sheikh Mujibur Rahman.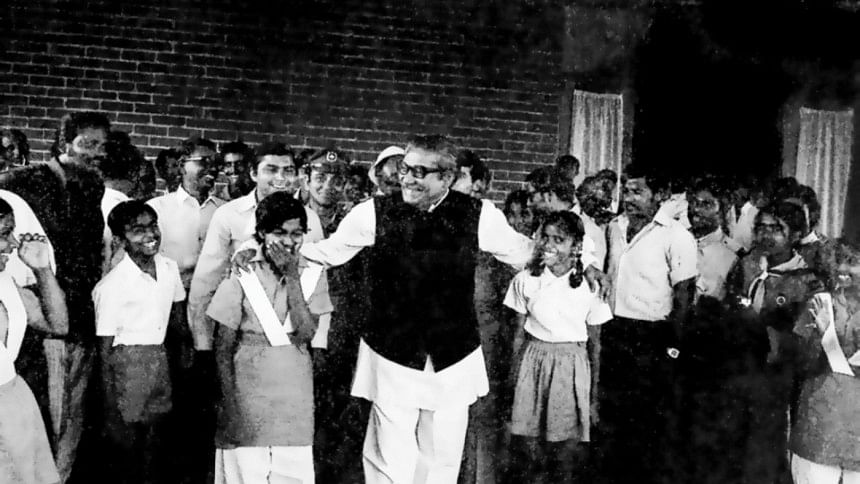 "Thirty five year ago, even longer perhaps, just a camera in hand, they had gone out to bring back a fragment of living history. Today, those photographs join them in protest. Peering through the crisp pages of the newly printed history books, they remind us, "No, that wasn't the way it was. I know. I bear witness."
The black and white 120 negatives, carefully wrapped in flimsy polythene, stashed away in a damp gamcha, have almost faded. The emulsion eaten away by fungus, scratched a hundred times in their tortuous journey, yellowed with age, they bear little resemblance to the shiny negatives in the modern archives of big name agencies. They too are war weary, bloodied in battle.
So many have sweet-talked these negatives away. The government, the intellectuals, the publishers, so many. Some never came back. No one offered a sheet of black and white paper in return. Few gave credits. The ones, who risked their lives to preserve the memories of our language movement, have never been remembered in the awards given that day.
35 years ago, they fought for freedom. They didn't all carry guns; some made bread, some gave shelter, some took photographs."
I had written this for the Drik calendar, commemorating our independence. Rashid Talukder was one of the photographers we were featuring. Sadly, of the photographers we had featured only Jalaluddin Haider is alive today. Before he passed away, Rashid bhai had handed over his entire set of 165,000 negatives to Drik, to preserve, archive, and hopefully provide some income for his family. He also gave a video interview where he talked of his remarkable history, and the closeness he had with Bangabandhu Sheikh Mujibur Rahman, the father of the nation. 
Having made a promise, we obtained a state of the art scanner, the Heidelburg Nexscan F4100 to obtain the maximum detail from the ageing negatives and had been actively working on the archives, when the Dhaka North Mayor Annisul Huq approached us with the idea of producing a unique exhibition of rare photographs of the father of the nation. It was a crazy schedule, and with more passion than reason and many a stubborn moment, we set about piecing together an untold history about an unseen Mujib.
Shahidul Alam is a renowned photographer and activist. He is the founder of Drik Picture Library and Pathshala South Asian Institute of Photography.