Shoeb Faruquee exhibits at Radisson Blu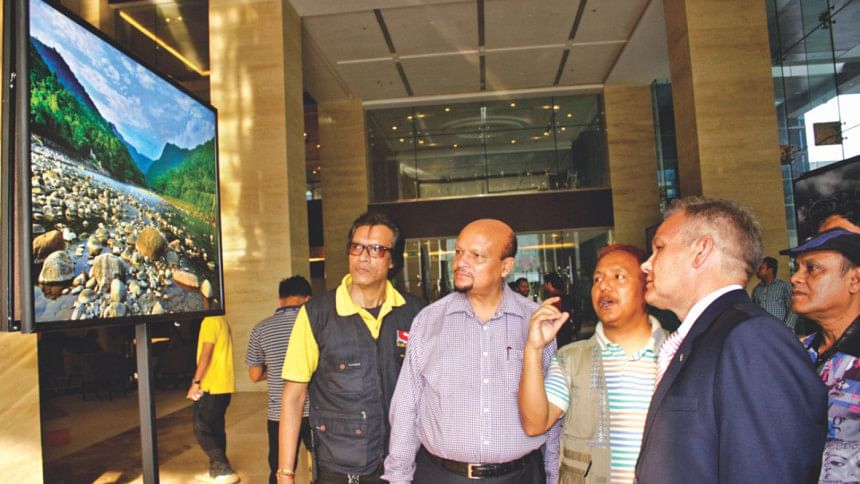 A month-long solo photography exhibition of renowned photographer Shoeb Faruquee opened at Radisson Blu Chittagong Bay View in the port city on Saturday.
For the first time, to highlight the artworks of the local artists from different fields like sculpture, paintings, design and literature before the world, Radisson Blu Chittagong Bay View has initiated to organise exhibitions featuring artists of the region.
The initiative of the five-star hotel was launched through the month-long exhibition of the renowned photographer. 
Asean Bangladesh Business Forum (Malaysia) President Dr. Mahmud Hasan MJF and Radisson Blu Chittagong Bay View's General Manager Geir Sikko jointly inaugurated the exhibition, where 70 selected artworks including award-winning images captured by the artist are on display.
Life, culture, religions, heritage and scenic beauty of the country and other Asian and Middle East countries are on view at the exhibition. 
"The exhibition has no specific theme. Many photographs were taken within the country. Side by side are images of people's lives and heritage in countries like Nepal and Malaysia. Micro photography, landscape, travelling photography and artistic images also have their place," said Shoeb. 
Radisson Blu Chittagong Bay View's General Manager Geir Sikko said the newly started initiative will continue where the visitors will get chance to discover the local artistes.