LIFE, LIGHT & CHAOS at AFD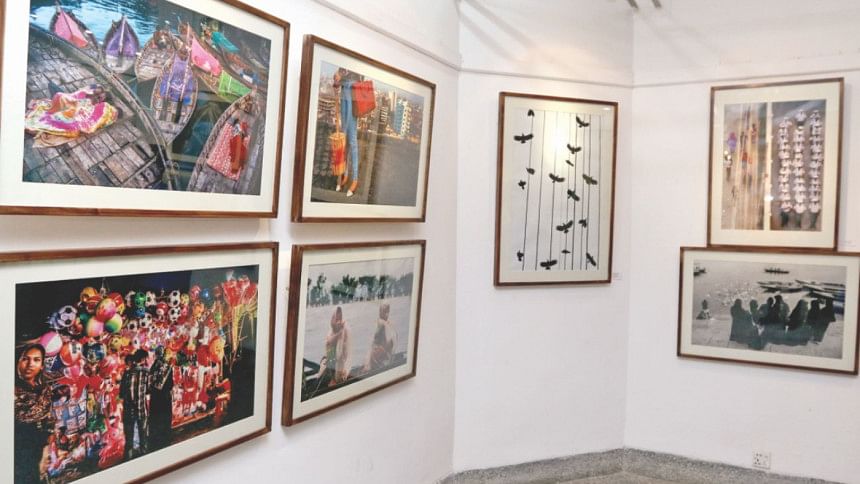 "Life, Light & Chaos", the first solo photography exhibition by promising photographer Joy K Roy Chowdhury is currently on at La Galerie and Galerie Zoom of Alliance Française de Dhaka.
The inauguration ceremony was held on Friday evening in presence of noted cultural personality Aly Zaker, photojournalist Abir Abdullah, journalist and television personality JE Mamun, other distinguished guests, and members of the photography fraternity. Bruno Plasse, Director of Alliance Française de Dhaka, delivered the welcome speech at the ceremony.
The exhibit sheds lights on people and their existence in close harmony with the nature, evoking stories that would otherwise be left untold.
The joy of living, simplicity, emotions, pleasure and pathos of life are vividly captured in these photographs. Every photograph displayed at the exhibition tells a story; sometimes enticing, and sometimes a tad bland. Mundane happenings, captured through Joy's lens, acquire different dimensions which deserve the close attention of onlookers.
In sum, "Life, Light & Chaos" is Joy's visual journey into the ever-shifting kaleidoscope of life where little pieces fall together to create magnificent patterns.
In addition to 30 photographs, the exhibit features a number of Joy's digital illustrations made with a smartphone.  
Joy K Roy Chowdhury is a founder member and president of Narayanganj Photographic Club (NPC). Through his photographic journey he tries to frame a seemingly-unremarkable sigh into a remarkable one.
The exhibit will run from Monday to Thursday from 3pm to 9pm, and Friday and Saturday from 9am to 12 noon, and 5pm to 8pm till June 6.