'Growing Together Campaign' launches Rohingya children's art exhibition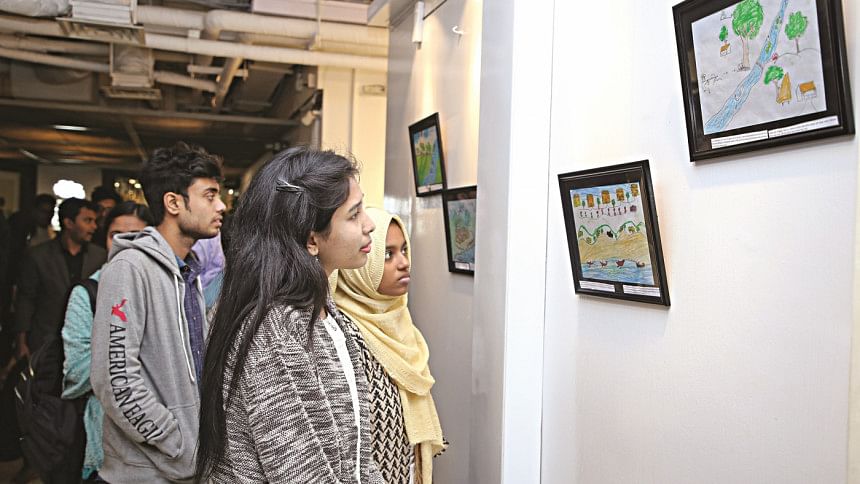 The Earth Society organised an eight-day exhibition with drawings made by Rohingya children, aged between nine and twelve. The event opened at EMK Center, Dhanmondi, on January 4. 21 drawings, portraying the heart-wrenching reality of the Rohingyas and the genocide and torture by the Myanmar Military, are on exhibit at the show.
The Earth Society is a local NGO working with capacity building, youth engagement, development, disaster management and refugee crisis, among other things. Their 'Growing Together Campaign' includes the youth of two different countries finding sustainable ways to address the refugee crisis. The campaign was organised by The Earth Society, with support from InterCollege, FGU, UNG AKTION, and co-funded by Erasmus+ Programme of the European Union.
25 young people from the Danish organisation Youth Action and 27 young people from The Earth Society teamed up to build a project that would help both Rohingya children and their local communities through the Youth Exchange Program 2019. They visited two refugee camps, some of the host communities and participated in a number of interactive sessions with the refugees.
At the exhibition's inauguration, the participants shared their experiences from the campaign. Arif, a student from Dhaka University said, "Learning about Denmark's tradition and culture was remarkable. I learned a lot by working with the people."
Karen-Marie from Denmark, who worked in the Palestinian refugee camps before, also shared her experiences. "In a refugee crisis, people of the host community suffer a lot as they are faced with a harsh reality. But what Bangladesh has done for the Rohingyas is something to be proud of," she said.
The campaign started in the first week of November and two of the participants will be selected from Bangladesh to visit Denmark as a part of it. "We plan to include the youth and find out what they are thinking and how they can contribute to this crisis," said the Executive Director of Earth Society, Mamun Mia.
The exhibition included a mime performance by Lokman, a young Bangladeshi artiste. He beautifully portrayed the sufferings of the Rohingya community through his act, Ekti Omimangshito Jiggasha. The band, Obantor, also performed at the event.