Homage to Shilpacharya Zainul Abedin
The sublime personality who dedicated his entire life disseminating art and good taste among the people of this part of the world is Shilpacharya Zainul Abedin. Today (December 29) marks the 101st birth anniversary of Shilpacharya, the founding father of Bangladeshi art and art education.
A well-known figure for his leadership qualities in organising artists and art movements, Abedin took the initiative to found the Government Institute of Arts and Crafts (now Faculty of Fine Arts) in 1948 on Dhaka University campus, of which he was the founding principal. This institute trained and nurtured an entire generation of artists whose works reflected the changing times. Qamrul Hassan, Safiuddin Ahmed, Shafiqul Amin, Anwarul Haq were contemporaries of Zainul Abedin. This was the generation that depicted the changing social reality in their art.
It was his rare contribution to depict the miseries of the starving people during the great famine of Bengal (in 1943). He made his own ink by burning charcoal; using it on cheap ordinary packaging paper, he depicted the starving people. In his sketches, the famine showed its sinister face through the skeletal figures of people. Zainul Abedin depicted this inhuman story with human emotions. These sketches helped him find his way in a realistic approach that focused the human sufferings, struggle and protest. The Rebel Crow marks a high point of that style.
"Abedin Sir was a man of great heart. His masterpieces are priceless assets for us. His contributions to art creation and education through establishing Dhaka Art College are immense. I have many fond memories with Sir. Once, Sir went to my home district in Chandpur where we painted together on a boat around the confluence of the rivers -- Meghna, Padma and Dakatia," recalls reputed artist Monirul Islam.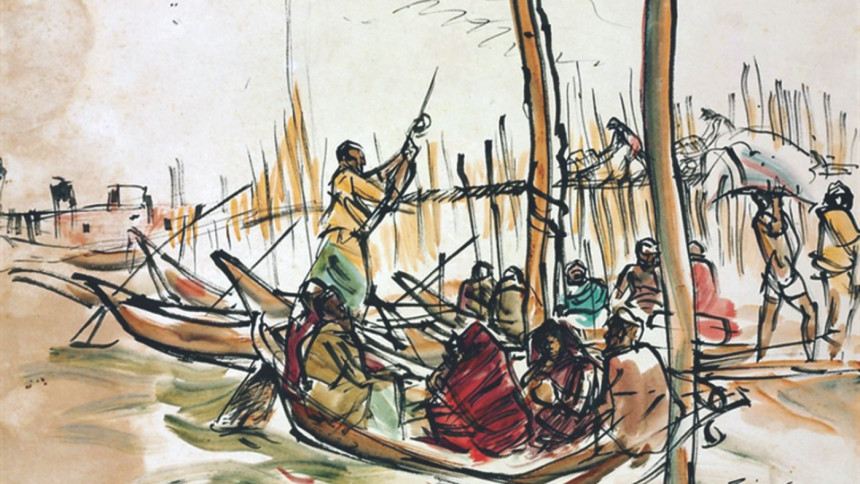 "We must go down memory lane to have a close look at our respective artistic efforts and contributions to judge what Shilpacharya Zainul Abedin did single-handedly for fine art, fine art education, and overall culture of this part of the world. Have we collectively carried forward the rich legacy that he left? We have to think of the country's citizens, fine art, art education and culture with a sacrificing mind beyond mere personal interests and pursuits," said Professor Nisar Hossain, Dean of FFA, DU.  
Born in Mymensingh, Abedin grew up in the serene landscape by the river Brahmaputra. In 1933, he enrolled at Calcutta Government Art School, and later taught at the institute. He was an influential member of the Calcutta Group of progressive artists. 
Abedin was involved in the Liberation War movement. He was in the forefront of the cultural movement to re-establish the Bangalee identity. In 1975, Zainul Abedin set up a folk museum at Sonargaon, and a permanent gallery in Mymensingh (Shilpacharya Zainul Abedin Sangrahashala) 
to display some of his works. 
Abedin died in 1976 in Dhaka.