Harry Potter Festival takes off in Bangladesh
To celebrate the 20th anniversary of Bloomsbury publishing "Harry Potter and the Philosopher's Stone", the British Council has been hosting the Harry Potter Festival from October 15-28 for the series' fans across Bangladesh, says a press release.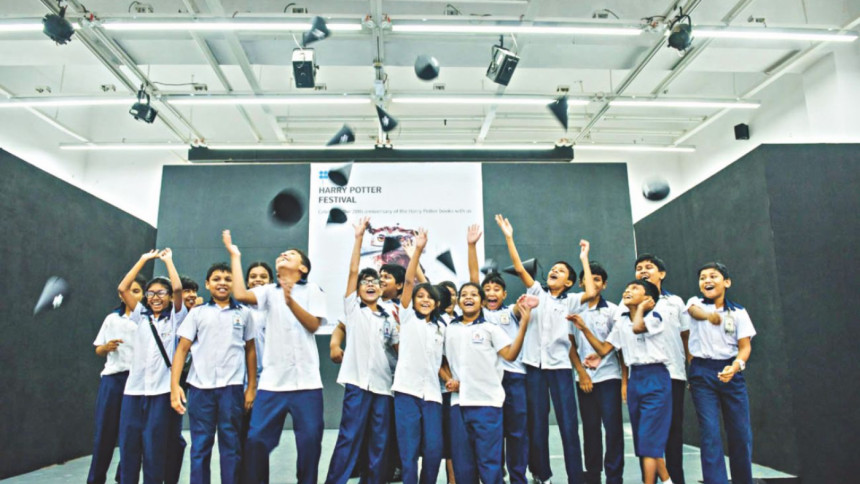 The festival will be hosted in three different phases through five public libraries in Dhaka, Chittagong, Sylhet, Khulna and Rajshahi as part of its collaboration with Libraries Unlimited, which is another British Council project in partnership with the Ministry of Cultural Affairs and supported by the Department of Public Libraries. 
The first phase of the celebration was hosted in Dhaka from October 15-19 at the British Council, Dhaka University campus office. Around 2000 Harry Potter fans celebrated the magical eve with an array of activities like panel discussions, art competitions, treasure hunt, quizzes and games. A magic workshop titled "Wizards Classroom" was arranged, followed by a magic show by the famous magician Jewel Aich. The second phase will be hosted at Rajshai today, and the third phase will take place in Chittagong, Sylhet and Khulna on October 28. 
This collaborative celebration aims to engage communities using the public library network to build public awareness of and access to library and information services. Harry Potter is a series of fantasy novels written by British author J. K. Rowling which chronicle the life of a young wizard, Harry Potter, and his friends Hermione Granger and Ron Weasley, all of whom are students at Hogwarts School of Witchcraft and Wizardry.