European Film Festival at Star Cineplex
A cut above the rest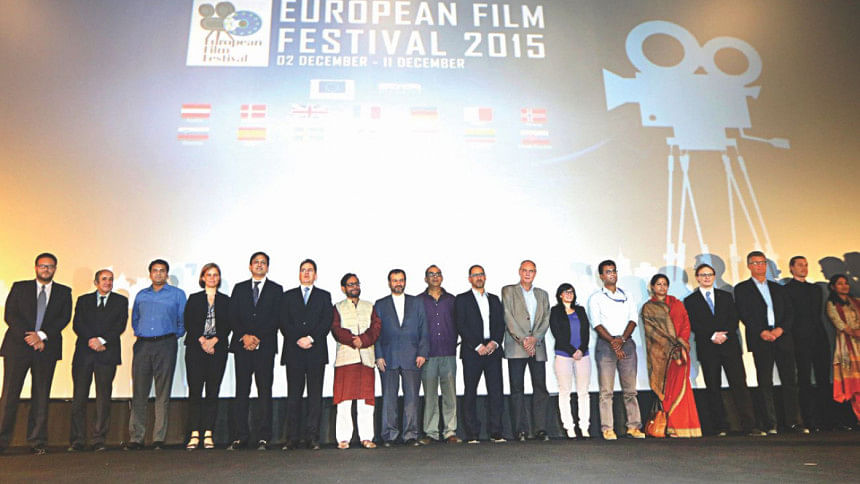 The eagerly anticipated European Film Festival has returned to Star Cineplex in the capital with a number of critically acclaimed films.
Chairman of Star Cineplex, Mahbubur Rahman, along with other distinguished guests, including the EU Ambassador to Bangladesh Pierre Mayaudon and Cultural Affairs Minister Asaduzzaman Noor, inaugurated the festival on Wednesday evening.
The festival, jointly arranged by the European Union and Star Cineplex, features 14 films from European countries.
Following the inauguration ceremony, the first film to be screened was Maltese film "Simshar".
The other films to be screened are: "Paddington" from United Kingdom, "Una Pistola En Cada Mano" from Spain, "Attila Marcel" from France, "Win Win" from Switzerland, "Breating" from Austria, "The Hundred Year-Old Man Who Climbed Out of the Window and Disappeared" from Sweden, "Finn" from Netherlands, "The Agreement" from Denmark, "Lessons of a Dream" from Germany, "The Legend of the Flying Cyprian" from The Slovak Republic, "Vesna" from Slovenia, "Before Flying Back to Earth" from Lithuania, "Bestevenner" from Norway, and Danish film "The Hours of the Lynx".  
The film festival   acquaints Bangladeshi film goers with the best films from Europe and thus strengthens cultural ties. 
The festival will run till December 11. Tickets for each film are priced at Taka 200.