Drishyam could have been better if it had been tighter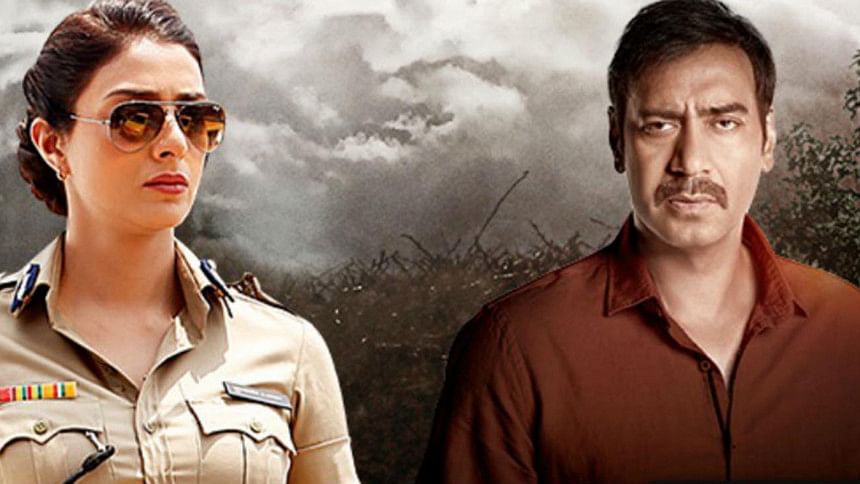 'Drishyam' sets us up for a couple of welcome things: a plot which piques our curiosity, and a leading man retracting from the brink. An unwelcome intruder disrupts the placid progression of a man devoted to his family, leading to a shocking event. Will their life ever be the same again?
Vijay Salgaonkar (Ajay Devgn) is a 'fourth class fail' self-made orphan who has climbed his way up to a modest little business of his own. He runs a cable outfit in a sleepy Goa village, with the help of a young assistant, and watches films with an obsessive passion, often spending nights in front a screen. His pretty wife (Shriya Saran), and two bubbly daughters vie for his attention, and we see them do stuff that regular folk do: outings to nearby Panjim, joshing at the dinner table. Into this idyll walks in a brash teenage boy with an unconscionable demand, and ruin stares them in the face.
The disappearance of the boy who turns out to be the son of top cop Meera Deshmukh (Tabu) and her wealthy businessman husband (Rajat Kapoor), and the investigation that follows makes up for the rest of the film. Vijay is under the scanner, the beady eye of corrupt sub-inspector Gaitonde (Kamlesh Sawant) fixed on him and his family. The premise is engrossing enough, and there is enough of a pay-off when things gather steam, but the film tries our patience in the languid build-up.
The second half is where 'Drishyam' and Ajay Devgn– both take time to get into their groove– come into their own, and we get an interesting view of the age-old theme of crime and punishment. How far can a man go to protect his family? Where does the line between right and wrong blur? And how does real-life and reel-life feed off each other, and can the intersection throw up smart answers to near-unsolvable problems?
A clutch of films have trudged a similar path in the past year, most notably the Malayalam 'Drishyam', and the Tamil remake 'Papanasam', both written and directed by Jeethu Joseph. The Hindi remake, also called 'Drishyam', credits Joseph's 'original story', even though its central conceit bears more than a passing resemblance to the super-popular Japanese thriller 'The Devotion of Suspect X'.
Both the formidable Mohanlal and Kamal Haasan, respectively, were terrific, the latter playing up a hyper-emotional core to the hilt, the former parlaying his knowing wryness as well as only he can. Ajay Devgn is a trifle stilted (the effect of those buffed-biceps pumped-up characters he has been playing in such awful tripe as 'Action Jackson' wearing off slowly?), but it is good to see him try on a 'character' for size after a long gap.
The film, which stays mostly faithful to the original but has a few inserts, could have been better if it had been tighter. And if Ajay Devgn had someone other than Shriya Saran (the two don't quite fit) opposite him. Tabu too is off-and-on, catching the inflection of her tough cop-soft mom sides sometime, and coming off stiff at others. The fluid Kapoor, on the other hand, is effective. So is Sawant as the brutal policeman who is frighteningly easy with his fists.
Finally, though, the film holds. In the way it unravels for us the street-smartness of a near-illiterate man intent on protecting his family at any cost, and how forgiveness can, sometimes, lead to a kind of acceptance. And in the way it delivers the stinging twist to the tale.