AN EARTHY TALE FROM THE SOUTH
AN EARTHY TALE FROM THE SOUTH
TheatrEX's "Dokkhina Sundori" at BotTala Rongomela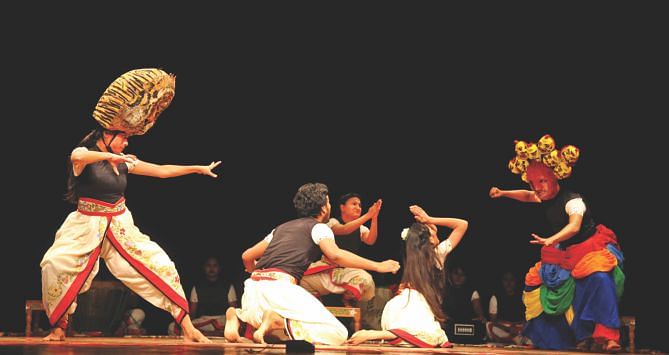 Theatre troupe TheatrEX Bangladesh staged their much-acclaimed production "Dokkhina Sundori" on Thursday evening at the National Theatre Hall of Bangladesh Shilpakala Academy, as part of BotTala's Rongomela.
Written by Shahman Maishan, the play has been directed by Sudip Chakroborthy, a reputed young director and an Assistant Professor at Theatre and Performance Studies Department of Dhaka University. The play unfolds against the backdrop of Sundarbans, and presents an epic canvas of primordial living and eternal aspiration of the nearly-extinct Chondro-bonde ethnic group. The lead characters of the play – Chondrey and Bona — have been derived from the folkloric tales about Chondro-bonde community.
"Dokkhina Sundori" tells a touchy tale of the inhabitants of this land, their dreams and pathos, their love for animals and the land. And through this, the play surmises that the largest mangrove forest in the world has been historically a target of profit-seeking people. The ending scene of the play voices against the coal-based power plant proposed to be built at Rampal, which environmentalists argue will adversely impact the ecosystem of the forest.  
The theatrical production combines third person-omniscient narration, location-specific choreography, poetic dialogues and lyrics which altogether create a unique style of performance. The play incorporates legends, fairytales and parables that unfold the existential crisis of the inhabitants and animals of Sundarbans brought about by blatant corporatisation.
The simplistic stage design, apt lighting, vivid costumes combined with narration gave the audience an insight into lives in the forest. However, the play is different than stereotypical narration and could prove difficult to comprehend for some. The 70-minute production is to be watched with rapt attention or the spectator may find himself a little lost. Nevertheless, "Dokkhina Sundori" is a production that will draw critical acclamation, particularly to the director for his treatment of the literarily rich script.
Nusrat Sarmin as Chondrey and Atiqur Rahman as Bona excelled in their acting while Mahzabin Islam and Syeda Ifat Ara were superb in their narration.
The play was earlier staged at the cultural event of the Commonwealth Games in Glasgow, Scotland.