A Revolution of Small Stitches
A Revolution of Small Stitches
Over the past few decades Jamalpur has transformed from a district where working women were frowned upon to one where women entrepreneurs are commonplace. The nakshi kantha industry has worked to empower women at all levels of society, leading to better lives and a more hopeful future for all.
Beauty Begum Bilkis, 38, mother of three, is sitting on the brightly patterned lounge in the living room of her modest brick home in Bogabaid village not far from Jamalpur town. She's trying to contain her excitement. She's instructing her daughter to bring the trophies, looking indecisive about how and where to begin. It feels as though a long overdue flood of words is due to be unleashed. "Nobody has come here before," she says, "to take notice of my achievements."
What makes it worthwhile is that she isn't boasting. Her elder daughter completed school up to class 10 and is married. Her younger daughter pursued a diploma in agriculture and her son is mid way through his HSC. That they live in a brick house was beyond her expectations. Hers is a deep, humble pride of the sort brought about by gratitude for a better-than-anticipated life.
There can be no surprise she wishes to recount intricate details. In Jamalpur better lives are often made of small stitches. Over the past few decades there's been a quiet revolution afoot – a women's revolution. While in many corners of the world traditional crafts like sewing nakshi kantha have become rare, Jamalpur's women have taken a lead, with nimble fingers, with needle and thread, in household and ultimately, community development.
"I was so frightened," Bilkis says, remembering her first train journey to Dhaka in 1998. It was a year after she'd started selling her embroidered products locally and her friend Rafiza Begum had proposed the trip to see what price her bed covers might fetch in the capital. She's remembering how they'd unwittingly bought train tickets without allocated seating which caused an altercation with the conductor. She's describing the basic women's hostel in Mohammadpur where they stayed, how they'd moved about nervously and overpaid for basic things like rickshaws.
Things have changed. Beauty Begum Bilkis is a solvent, independent woman. She's an entrepreneur with enough financial stability to be able to put her medium-sized business, Shohid Handicrafts, on hold so she can support her son through that crucial HSC period. A trip to Dhaka? Bah! No problem!
It's possible to find male beggars in Jamalpur, locals will tell you, but there's no such thing as a female beggar.
In West Nasirpur village to the south of Jamalpur a group of about twenty women are gathered on the open floor of a large room. They meet each day to chat and sew – every woman in the village is involved with embroidery.
The proprietor is among them, 50-year-old Halima Begum. She should be shy as one might expect of an otherwise typical village woman, but like Bilkis she is overburdened with joy. She's been sewing for thirty years, in her own business for twenty of them.
The first thing she wishes to say is how her two sons and one daughter are university educated – a Masters each in English, Political Science and Islamic Studies. It's not a minor thing when her father was an impoverished farmer, her mother a housewife who like many in Jamalpur knew the ancient art of the stitch. That was a time when sewing was used only on small projects around the house – to decorate a cushion or a picture frame.
Halima and the other women speak their own language: of pata kati, anas and seem, of borat and sheer – some of the many styles of stitch that go into a blanket or a bed sheet. She's showing the tracing paper, explaining how designs, principally of village life, are first imagined and drawn, then marked upon the cloth with powder. Or sometimes they receive design requests. An embroidered bed sheet might take a month for two women to complete, she estimates, working eight hour days. She's pointing to the spotted piprar kaz – 'ant's work.'
'Several districts in Bangladesh make nakshi kantha," Halima says, "but the borat stitch can only be found here and in Manikganj. Jamalpur work is finer – where others will use only one thread we use three."
Halima's endeavours have taken her as far as Ahmedabad, Mumbai and Delhi. As one of 130 Bangladeshi workers and the only one from Jamalpur she was chosen to participate in a SAARC Business Association of Home Based Workers idea-sharing tour. It's an experience she never expected, one she will never forget. She's got samples to show, of Indian appliqué, of the Rajasthani wedding sari, still on hold, she chose for her daughter.
"It's interesting to see them sewing and cooking lunch at the same time," says the secretary of the Jamalpur District Handicrafts Association who has taken us there. But Halima's thoughts are elsewhere. "Education is expensive," she says, knowingly.
One of the largest embroidery showrooms in Jamalpur town is Karu Polli Handicrafts, the brainchild of Nazma Rashid. From housewife prior to 1995, Nazma has proved to be one of the nakshi kantha industry's pioneers.
Her husband Md Harun-ur-Rashid, a government employee, was initially sceptical of his wife's endeavours. He thought that with his steady income there was no need for her to take on extra duties and that with responsibility for running the household she would hardly have the time. Besides, working was simply not the sort of the thing Muslim women did – Jamalpur is a traditional district, one of the poorest in Bangladesh. Such views were common at the time.
Nonetheless Nazma took part in training courses offered by several NGOs, most notably the Ayesha Abed Foundation and the Small and Medium Enterprise Foundation, covering different aspects of the business from fine sewing skills to marketing, accounts and quality control.
By 1998 she had registered Karu Polli with the Department of Women Affairs and in 2002 a second registration with the social welfare department was achieved. She mentions the efforts of Bangladesh Bank Governor, Jamalpur-born Atiur Rahman in liaising with local banks to free up loan availability needed for industry expansion.
From an initial 'showroom' that consisted of a room in their small home featuring a sofa and sewing products, Nazma's business has never looked back. In 2003 Karu Polli moved into its current custom-built showroom where a range of products beyond nakshi kanthas including bed covers, saris, three and one piece suits, tops, dresses, panjabis, fotuas, bags and wall mats are sold. Karu Polli features the work of 1900 artisans from at least five villages, employs a staff of six in addition to those involved in tracing and printing, which these days is done both by hand and using the more exact computerised 'skin print.'
These days Nazma takes the time to help others, particularly with the administrative skills she's acquired such as how to apply for a bank loan or register a business. "What I enjoy the most," she says, "is to see the changes. When I first went to Defulibari village the women used to say they needed sugar or flour. Now they speak of needing new furniture or jewellery. Most mud thatch houses have been replaced by tin. They have sanitary latrines. Their children study."
"When a woman can earn money and help the family of course she gains confidence," Nazma says. And it's everywhere. According to Nazma there isn't a village without sewing businesses. These days her husband is proud of Nazma's success.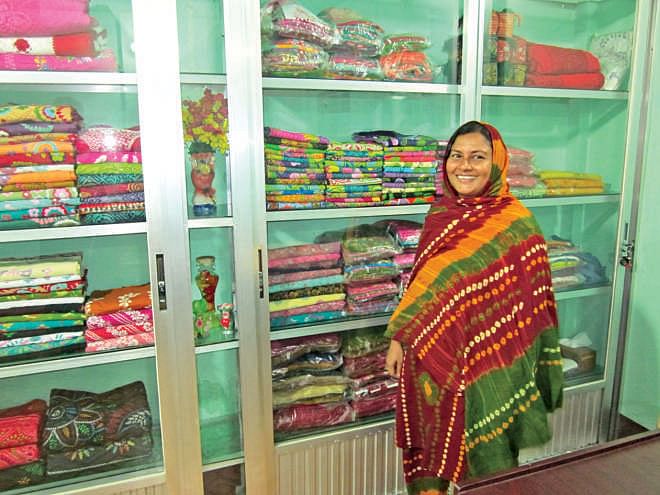 Ismat Ara Mukta started her business, Shui Shuta – Needle and Thread – Handicrafts in Dhoripara near the Tangail Bus Stand some years later in 2003. More than the other women hers was a middle class background. Her goal on starting the business was to have a new interest to occupy her time as her children had become older and independent.
She hoped to have a business close to home and built a showroom in front of her house. She wanted to offer employment for impoverished women, with about 1,000 women in up to twenty five villages currently working with her. In particular Ismat has been able to employ village women who were unable to complete their training with the Ayesha Abed Foundation, often due to family problems or discouragement.
She has been able to build a reputation for quality that has attracted clientele from places as far afield as Rangpur, Sylhet, Chittagong and Dhaka. The customers trust Shui Shuta enough to place bulk orders by phone for specified colours, which are shipped by courier and paid for by bank transfer.
Like Nazma, Ismat takes pleasure from seeing the positive impacts her business can have on women's lives. She recalls Shamima of Beltia village. "When I started," Ismat says, "her husband Mostafa was unemployed. Now, from her work he has a battery run taxi." The nakshi kantha revolution has brought new income into village households and allowed women to work from home, close to their families.
"I have two successes," says Ismat, "I stand on my own feet and I help others to stand on theirs."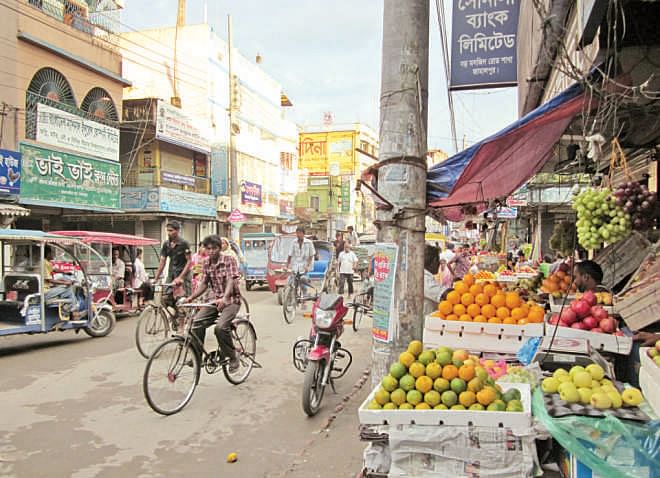 Bilkis is under no illusion that she isn't fortunate. Even on her first visit to Dhaka where she participated in a Bangladesh Small and Cottage Industry Corporation fair she was able to sell Tk.20,000 worth of products for a profit of Tk.5,000. Her fine needlework drew comments. Later the trophies came: Best Stall at the Department of Youth Development fair in Dhanmondi in 2003 and again in 2010.
And unlike many nakshi kantha entrepreneurs Bilkis was blessed with a supportive husband.  She had her son and a brother-in-law to accompany her to fairs on occasion. Yet as she won awards and compliments, as sales grew, she was being warned by her less-supportive in-laws that her activities would destroy both her and her family.
It was not the only trouble faced. "I was mugged three times on the way to the railway station," Bilkis says with surprising composure. "I lost three and a half lacs worth of goods."
Despite such setbacks her confidence grew and she was able to develop into something of a village leader. These days, even her in-laws will seek her advice.
Bilkis had wanted to use her business as a platform that could allow her to contribute more to humanity – choosing to undertake different kinds of NGO training that enabled her to support acid attack victims and abandoned women. She often accompanies women in need to the thana to lodge crime complaints. She offers assistance in securing legal aid or medical help.
On one occasion after she took a rape victim to an advocate, the rapist cut himself and lodged a false attempted murder case against her. She was lucky. She already had a good reputation with neighbours and the police, making it easy to understand the case was false.
Even these harrowing events she relates with relative calmness. "What is success in business," she asks, "if you cannot do anything to help improve society?"
And yet, when asked if these were the most difficult experiences she has had as a result of her business life, she mentions something else – the sort of thing working women worldwide can relate to. "When my son was awarded a scholarship in Class 8, I was in Dhaka. I wasn't here to celebrate with him. I cried over the phone."
For the future, Ismat, Nazma and Bilkis in particular have their sights set on exports. There is currently no easy way to market products or develop export sales, and middlemen from Sylhet or Dhaka with better access to capital often buy in bulk both for the broader domestic market and for exports. One facility that could be of benefit, especially for larger businesses, would be training on how to organise and manage internet sales; another would be to establish a nakshi polli, a nakshi 'village' as a convenient, centralised space where all Jamalpur's women entrepreneurs, large and small, could showcase their products. It is thought that the convenience of a nakshi polli would be attractive to international buyers.
Through the humble needle and thread, stitch by little stitch, there's a quiet revolution afoot. The nakshi kantha industry has put Jamalpur's women at the forefront of household and community development.