Moriom's passion for social work earns accolades
Masuma Moriom from Bangladesh received the Kalam Youth Leadership Award 2021 for her phenomenal contribution in social work. Khwab Foundation of India presented the award, in memory of former President of India APJ Abdul Kalam.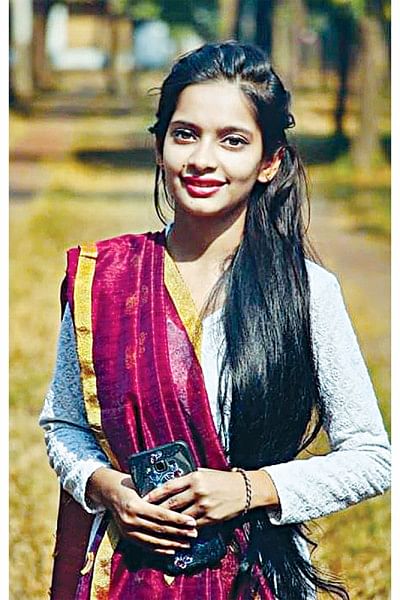 Moriom is a master's student in the Department of Disaster Management, University of Dhaka. She hails from Sherpur upazila in Bogura. Her parents are teachers by profession.
On July 26 and 27, Khwab Foundation organised the Kalam Youth Leadership Conference for the third time, with youths from different countries. Among the 22 recipients of the Kalam Youth Leadership Award, Moriom was the only Bangladeshi this year.
She also received the National Youth Icon Award 2019, and was shortlisted for World Young Person of the Year 2019. She was honoured as the Best Speaker at the Kalam Youth Leadership Conference in 2020.
"I founded Shwapno Youth Development Organization, a non-profit initiative, in 2015, with the help of Advisory President Shahnaz Parveen and President Masuma Mariom. It was registered with the Department of Youth Development in 2018. Although we started out in Bogura, from December 2019, we expanded our activities all over Bangladesh, with 25 volunteers," shares Moriom.
At present, the organisation has seven working members, 20 general members, 62 volunteers, and 26 campus ambassadors from different colleges and universities of the country.
Shwapno Youth Development Organization hosts various timely training programmes and workshops every month.
Their notable programmes include 'How Are You, Really?' and 'Psychological First Aid Training' to raise awareness about mental health among young people. Moriom also launched 'Right to Fight Against Harassment', a campaign to prevent violence against women.
Recently, she worked on an awareness building programme on the coronavirus pandemic for students of different schools in Dhaka and Chattogram. She also facilitated photography, writing, and power-point presentation competitions for them.
In addition, she organised the International Youth Development Summit, a virtual programme, with nearly 750 youths from 34 countries. She has also worked on a youth advocacy project for sexual and reproductive health for all, and ensured active participation of men in stopping child marriages.
Moriom considers the support of her family and the role of all the volunteers working with her to be the key to her success.