10 Bangladeshi youths on Top 100 Young Talent of Asia list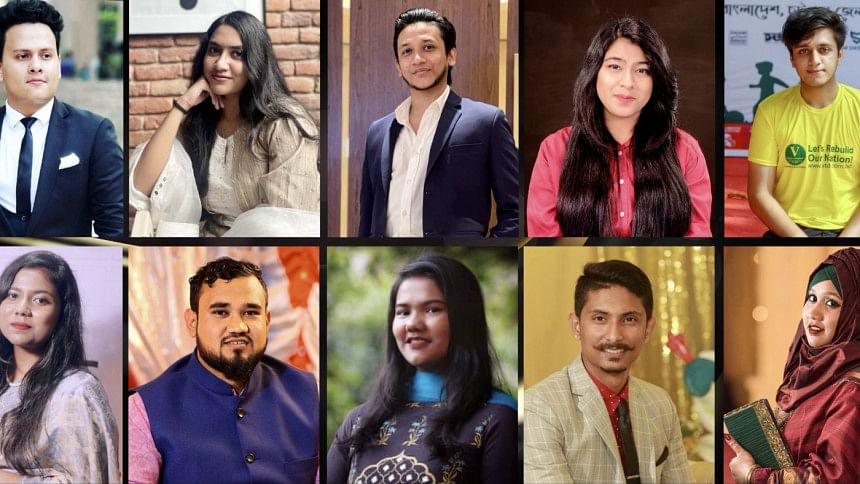 Ten Bangladeshi youths have made it to the Top 100 Young Talent of Asia list this year. 
The  Asia Young Talent Awards aims to recognise young people aged between 18 and 30, who inspire, influence, and motivate with their talent, story or work towards people and their community. 
It is organised by Monsta Asia, a talent growth and engagement platform of Malaysia that designs, develops,  and discovers talents in both personal and professional skills. AIM Initiative Foundation from Bangladesh is the organisational partner of Monsta Asia in this year's Asia Young Talent Awards.
From more than 900 nominees, top 100 young, talented individuals have been selected because of their impactful stories,  and their contributions to their communities. 
Among them, the 10 Bangladeshi youths are: Mohammad Shafin Arshad (Volunteer for Bangladesh), Zisan Rehman (Founder & President, Penny for Many), Safa Jahangir (Founder, Sarin's Store), Sadi Muhammad Tamim (Pathshala), A S M Ashikur Rahman (Executive Board Member, Youth Hub), Nuzhat Fatima Faruk (Social Media Officer, Pensive Stories), Mehrin Laila (Senior Interviewer, Volunteer Stories), Sanjida Hoque (Documentation & Communications Officer, AIM Initiative Foundation), Rafeed Elahi Chowdhury (Lead, Content and Product Growth, The Business Standard) and Subrina Habib (Executive Director, AIM Initiative Foundation, and Project Manager,  AIM School).